4esthetics Lounge Botox Bar in Versailles, KY
As you get older, minor facial issues, such as fine lines and wrinkles, become more apparent. If these changes are unwelcome, there are steps you can take to restore a more youthful look without resorting to a painful and expensive facelift. Consider safe and effective Botox injections in Versailles, KY, to achieve the smooth appearance you desire. At 4esthetics Lounge, a medspa in Versaille, KY, our highly trained and experienced staff relies on data-driven and personalized treatment plans to provide each patient with satisfying results. Visit the comfortable and spa-like environment at 4esthetics Lounge and discuss your Botox options with our certified providers and skilled nurse practitioners.
Botox Bar & Cosmetic Injectables
Schedule a free consultation with us today to learn more about how Botox can help you feel and look younger. 
About Botox
Botox treatments, which were the first treatments to use the neurotoxin botulinum toxin, have a variety of cosmetic and medical benefits. Approved by the FDA for a variety of uses, Botox is used to treat health issues such as overactive bladder, chronic migraines, neck spasms, and eye twitches. It was originally developed to treat "crossed eyes" but, in the process, was also found to have effective cosmetic benefits. Currently, adults of any age consistently turn to Botox injections to reduce wrinkles, smoker's lines, and fine lines, especially concentrated around the eyes and mouth. Botox works by blocking chemical signals that cause muscle contractions, temporarily relaxing the muscles and reducing wrinkles, leading to an overall smoother and firmer facial appearance. You may be a good candidate for Botox if you are an adult (over 18) and are not pregnant or nursing and have realistic expectations of your results.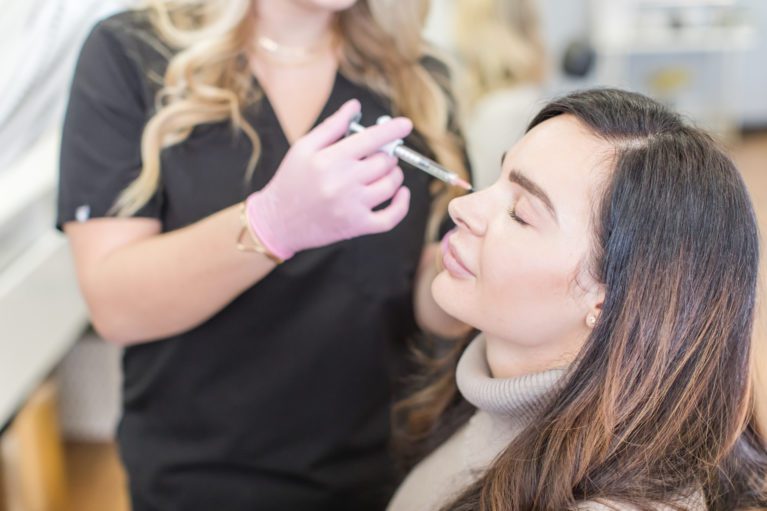 Botox Popularity
Versailles, KY
Our Botox treatments will help relax the muscles under your skin, which helps smooth the overlying skin that causes wrinkles on your face. Our Botox treatments will also help prevent your muscles from making the repetitive movements that invariably cause the skin on your face to wrinkle over time, so it is not just about being treated, but it is also about limiting future treatment for the same thing.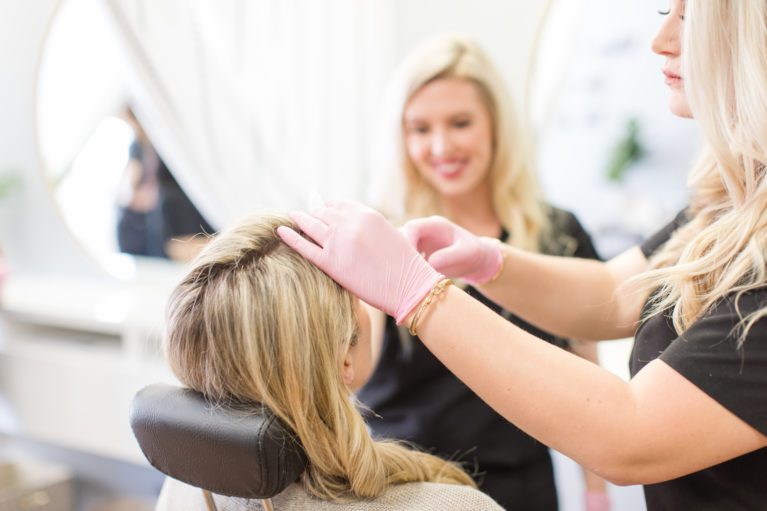 Professional Treatments
Versailles, KY
When you visit Versailles's most trusted Botox Bar, our licensed nurse practitioners will help you treat vertical lines between the eyebrows and on the bridge of your nose, while also targeting squint lines and crow's feet typically found at the corner of your eyes. Our highly skilled nurses will also perform treatment for horizontal lines that run across your forehead, while also combatting periorbital lines and laugh lines or smile lines when they start appearing around your mouth.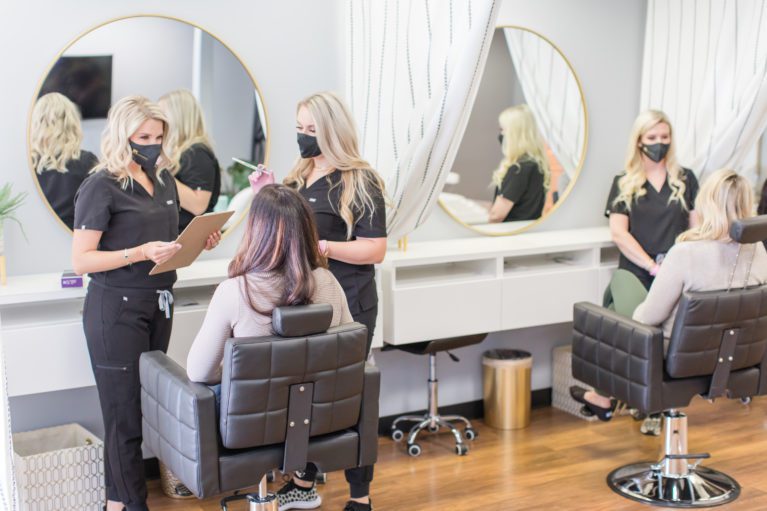 How Botox Works
Versailles, KY
You should also pay us a visit if and when your lips start showing signs of thinning or turning down. The practitioner will first clean your face and then inject the Botox directly into the muscle areas where it is needed using a very fine needle, relaxing the facial muscles and creating a smoother appearance. They may ask you to move your face at times to help pinpoint exactly where the Botox is needed.
Schedule a Botox Treatment Consultation
Contact us today to learn more about our Botox treatments at 4esthetics Lounge
What to Expect with Botox in Versailles, KY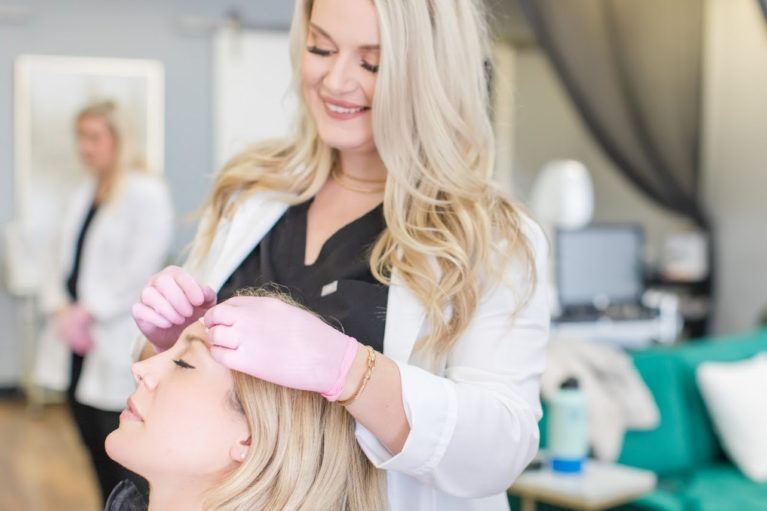 Botox Treatments
Before the Appointment
Botox injections are typically done in an office rather than a hospital, ensuring a more overall pleasant experience. Before beginning your Botox treatment, your provider may ask you about any medication, blood thinners, or sleep aids you are taking and if you have ever received Botox injections. They will also prepare your face for the injections and may administer a numbing agent, although most patients report little discomfort during the procedure.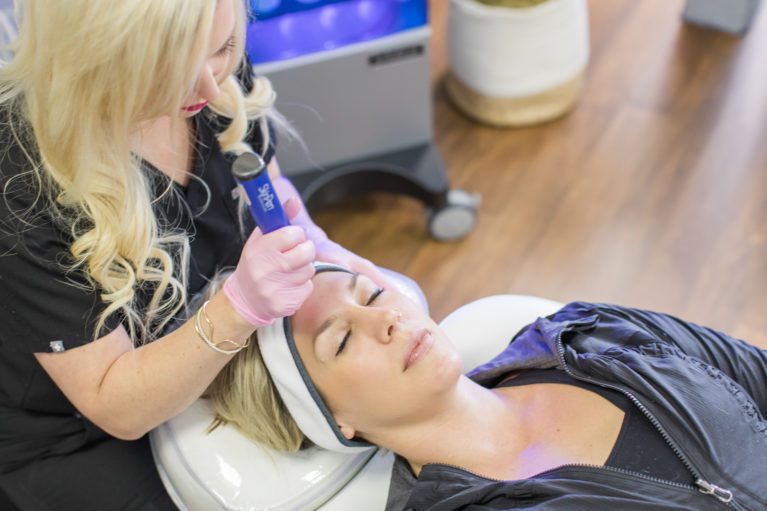 Botox Treatments
During the Appointment
During the procedure, the provider injects the Botox with a fine needle, and they may ask you to create specific facial expressions in order to pinpoint the best muscle areas and spots for treatment. Immediately afterward, do not rub or massage the skin, as this could spread the Botox to other facial areas. You should also avoid lying flat on your back for several hours following Botox and avoid excessive sun exposure, which could negatively impact your results. Speak to your provider about additional guidelines for post-Botox care.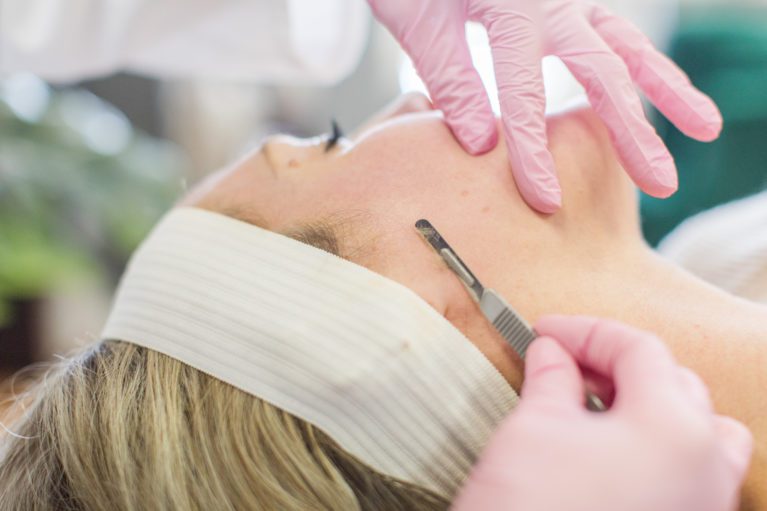 Botox Treatments
After the Appointment
The results of Botox injections should last approximately four months, and many people receive follow-up treatments to maintain their appearance. Results typically gradually appear over the course of a few weeks, and repeated treatments tend to produce better results as the facial muscles can relax over time. With the data- and results-driven approach at 4esthetics Lounge, you can be confident that you will receive top-notch care at every appointment. In addition, many people prefer the ease and relatively low cost of Botox when compared with more invasive procedures, such as plastic surgery.
Botox Injections for Versailles, KY
If you are looking for a solution to common signs of aging, such as wrinkles, fine lines, and crow's feet, contact us at 4esthetics Lounge today to discuss your potential results in our comfortable and relaxing office. We base our treatment on each patient's specific needs and desired outcomes, so you can be sure you'll receive personalized and attentive care from highly skilled providers. Call us today to book a consultation to discuss your future at 4esthetics Lounge and achieve the younger-looking appearance you've been striving for.
Frequently Asked Questions
Botox® Cosmetic is a treatment designed to relax muscles that cause wrinkles through small injections administered to target areas. Botox® Cosmetic has been FDA approved for use for the temporary improvement in the appearance of:
Moderate to severe glabellar lines (between the brows) associated with corrugator and/or procerus muscle activity
Moderate to severe lateral canthal lines (crows feet) associated with orbicularis oculi activity
Moderate to severe forehead lines associated with frontalis activity
Off-label Uses: Other areas that Botox® Cosmetic can be injected for improvement include:
Lip Flip: Injection above upper lip to give the appearance of a fuller upper lip
DAO: Injection below corners of the lower lip for improvement in a "turned down smile"
Axilla: Injections under the arms for improvement in excessive sweating
Botox® Cosmetic Injections are a quick procedure with zero downtime and a relatively pain-free experience! Additionally, you can rest assured that 4esthetics Lounge uses Comfortox Syringes, specifically designed for facial esthetics, which leads to the most comfortable Botox® experience available.
When a product has been trusted by as many doctors as Botox®, you can trust them too. Botox® leaves minimal redness post-injection which can occur and resolve within minutes to hours.
The effects of Botox® Cosmetic will begin to kick in around 1-week after injections.
Effects last about 3 months and then you will need re-treatment.
A lip flip is performed using Botox® or Dysport around the mouth, usually the upper lip. This helps relax the muscles around the mouth allowing the "pink lip" to pull up & show more. A lip flip is quick, easy, and inexpensive when compared to lip filler. It is a great way to "test the waters" if you are interested in having a fuller lip but aren't quite ready to commit to lip filler.
Yes! When Botox® Cosmetic is injected superficially it inhibits the effects of sweat production, thus leading to anhidrosis—NO MORE SWEATING! Notice improvement in symptoms in 2 weeks, with effects lasting as long as 9 months!