4esthetics Lounge Med Spa in Paris, KY
Spa Environment
Lounge
Our spa-like lounge will have you feeling relaxed and comforted during all of your skincare treatment needs.
Safety First
Nurse Practitioners
The friendly and easy-going laides at 4esthetics Lounge are medical professionals so you can count on effective and safe cosmetic care.
Follow Up
After Care
We ensure each of our clients are fully comfortable with post-treatment care before beginning any cosmetic injectables or facials.
Cosmetic Injectables & Skincare Treatments
The medical spa cosmetic injectable packages and facial treatment options from 4esthetics Lounge will safely eliminate age lines, wrinkles, and excess fat.
Cosmetic Injectables in Paris, KY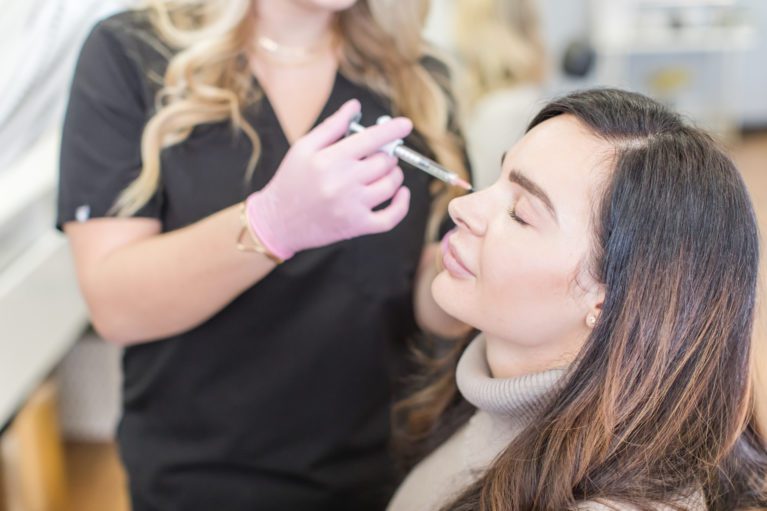 Botox Injections
Paris, KY
Botox is a safe, effective way to smooth out your forehead lines and reduce crow's feet. The results are long lasting and can be seen after just one injection. Botox also helps relax facial muscles that cause frowning or other expressions.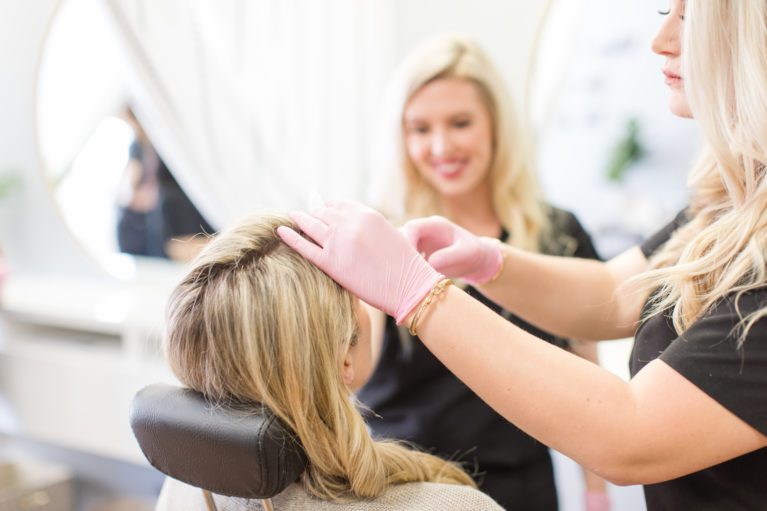 Dysport & Xeomin
Paris, KY
Annoyed with that frown line around your eyebrows? If yes, then you should consider dysport treatments at 4esthetics Lounge. Dysport injections are best for removing frown lines and wrinkles around the eyebrows.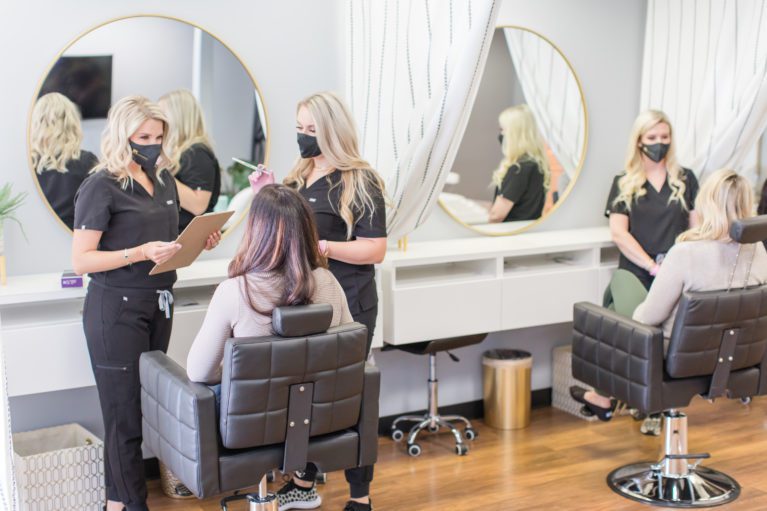 Dermal Fillers
Paris, KY
Dermal fillers are injections that are used to plump out the skin or enhance facial features. These fillers are injected into the face to add volume and smooth wrinkles. Call today to schedule your first session!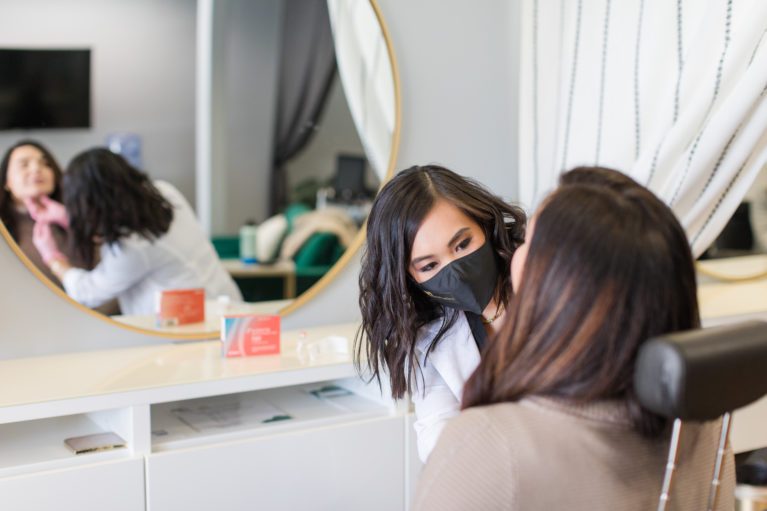 Kybella
Paris, KY
Kybella is a non-invasive treatment for fat reduction that uses a new injectable solution. This procedure has been approved by the FDA and is designed to reduce submental fat (the fat under your chin) and improve your overall appearance.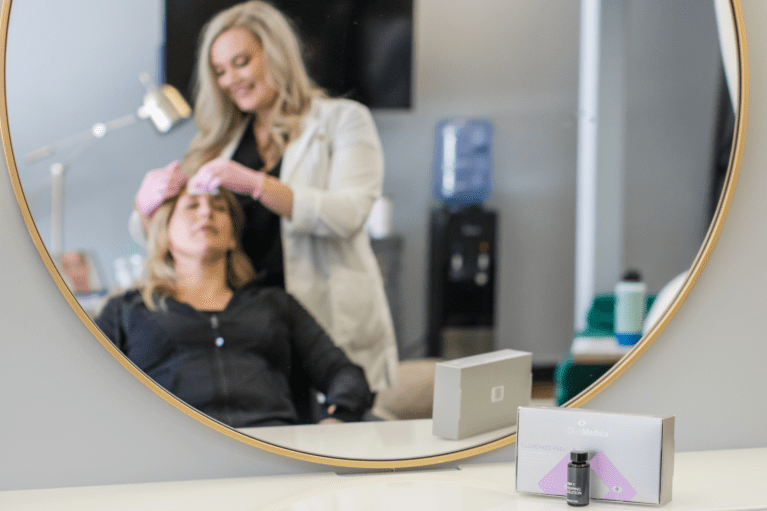 PRP & PRF Treatments
Paris, KY
PRP and PRF treatments are natural growth factors made with extracts from your blood. They are rich in platelets and white blood cells and work to kickstart new cell growth and collagen production.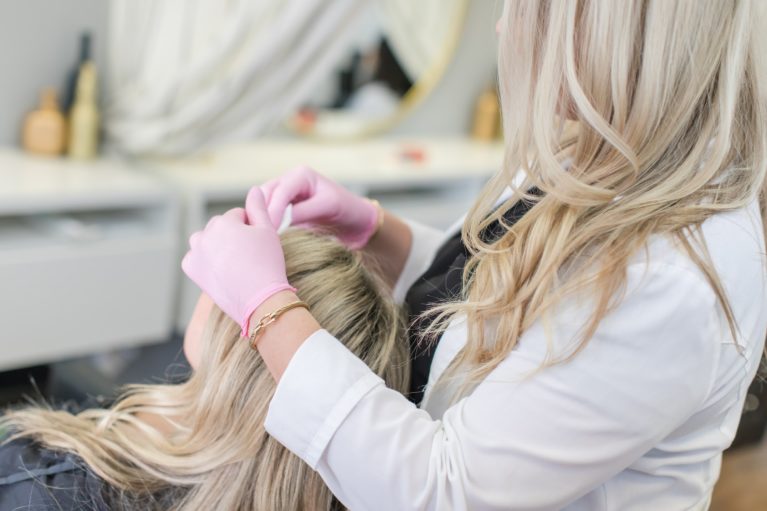 Collagen Builders
Paris, KY
Collagen builders are cosmetic injections designed to encourage your body to produce collagen to help smooth away wrinkles and fine lines.
Schedule a Cosmetic Injectable Consult
Contact us today to learn more about our cosmetic injectables at 4esthetics Lounge
Device Treatments in Paris, KY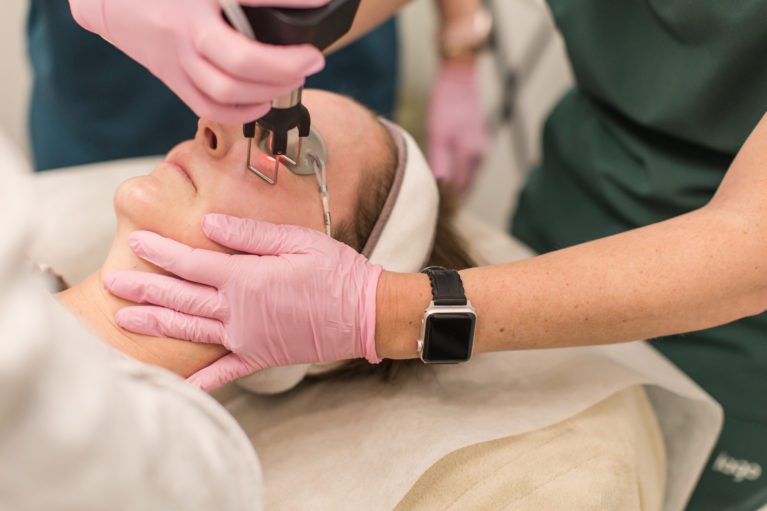 Skin Tightening
Paris, KY
4esthetics Lounge is the only medspa near Paris that offers Virtue RF treatments. Tighten those loose skin areas on your face with radiofrequency microneedling and thermal energy, while also encouraging collagen development.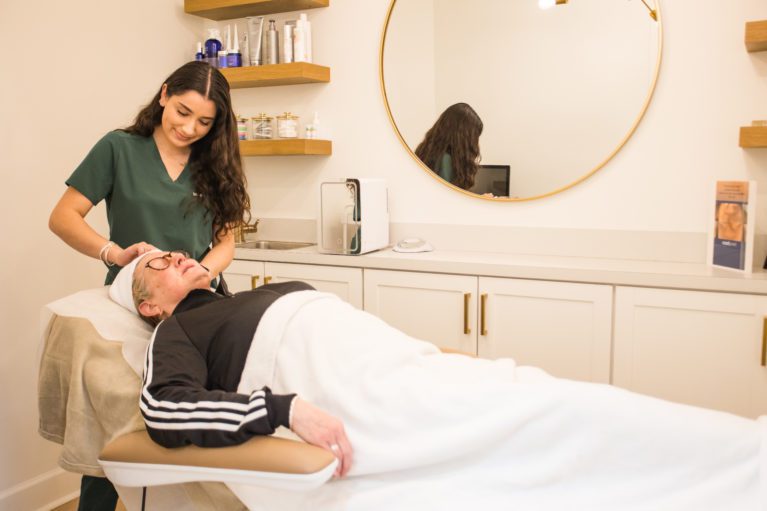 Skin Resurfacing
Paris, KY
4esthetics Lounge is the only medspa near Paris that offers Tetra CO2 with CoolPeel for skin resurfacing. Easily remove fine lines, wrinkles, and facial scarring with CO2 laser treatments—a safe, effective, and minimally invasive skin resurfacing technique.
Schedule a Device Treatment Consultation
Contact us today to learn more about our device treatments at 4esthetics Lounge
Spa Treatments in Paris, KY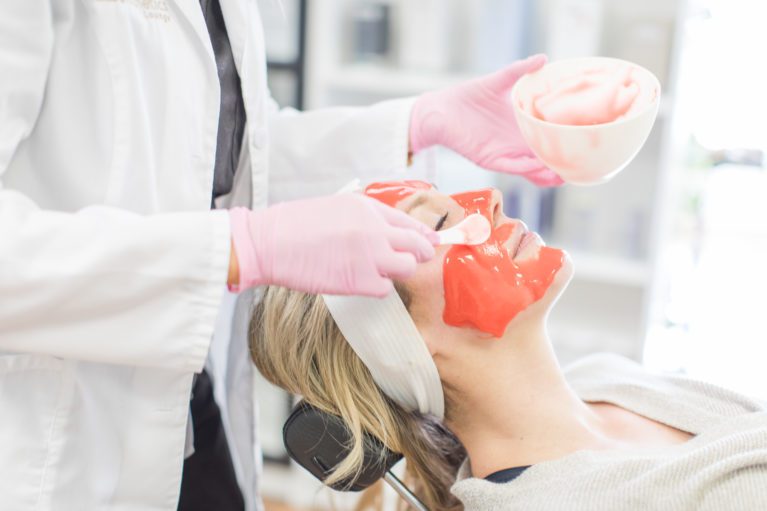 Chemical Peels
Paris, KY
Chemical peels are a common treatment for skin conditions such as acne, sun damage and aging. They involve applying a chemical solution to the skin that causes the top layers of the epidermis to slough off. This allows new cells to form underneath the dead layer, resulting in smoother, brighter looking skin.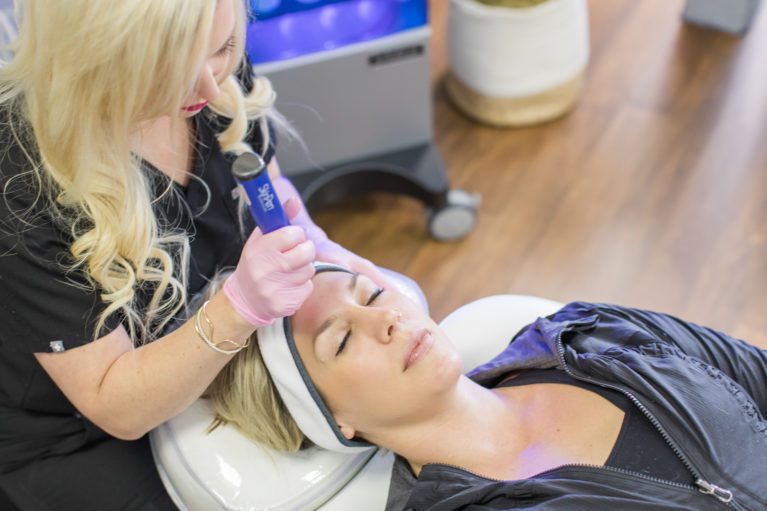 Hydrafacials
Paris, KY
4esthetics Lounge provides hydrafacial treatments at affordable prices. This treatment is safe and effective because it uses only natural ingredients. It helps improve the appearance of fine lines, wrinkles, hyperpigmentation, acne scars, and other signs of aging. It also allows you to get rid of dark spots and blemishes.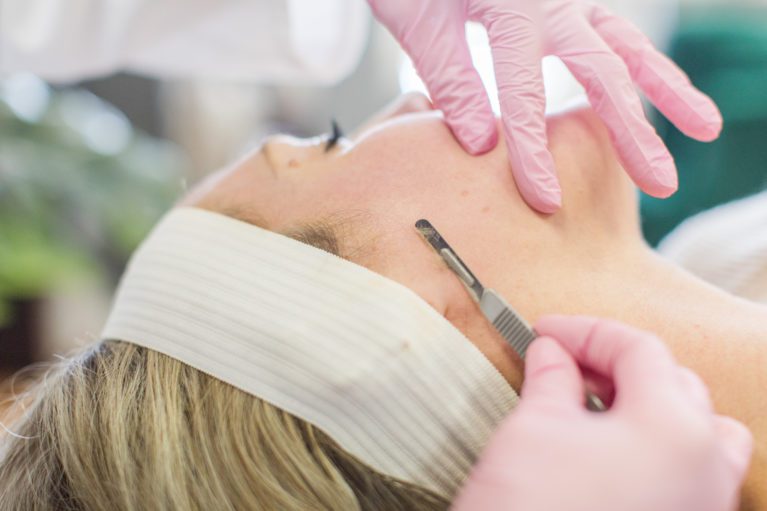 Dermaplaning
Paris, KY
Dermaplaning is a procedure where the skin is gently scraped off using a special skin treatment tool. This treatment helps remove dead skin cells and other impurities from the surface of the skin. The result is smoother, softer skin. Dermaplaning removes dead skin cells without damaging the underlying layers of the skin. It also makes the skin look younger and healthier.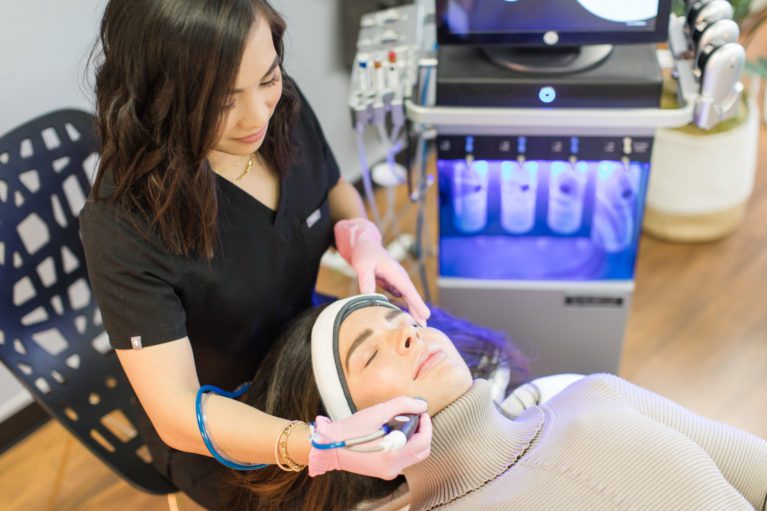 Microneedling
Paris, KY
Microneedling is a new beauty treatment that has become very popular over the last couple years. This procedure involves using tiny needles to create micro channels in the skin, allowing for better blood flow and faster healing. This noninvasive cosmetic procedure can improve the appearance of fine lines and wrinkles, reduce scarring, and even stimulate collagen production.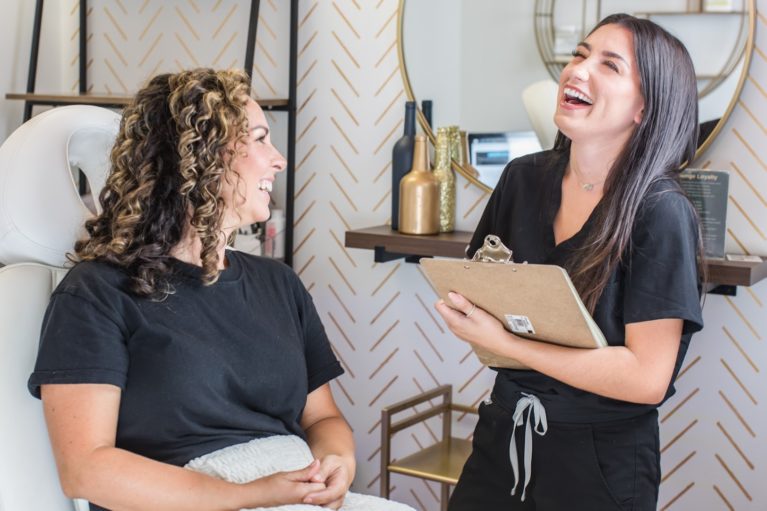 Facials
Paris, KY
Facials are usually used to cleanse and eliminate dead skin cells and treat acne, rosacea, or other skin conditions. Professional facials may be performed in a med spa setting by a registered esthetician. They reduce redness, wrinkles, and blemishes, as well as puffy eyes, dark circles, or patches.
Schedule a Skincare Treatment Consult at Your Local Med Spa
Contact us today to learn more about our skincare treatments at 4esthetics Lounge
Frequently Asked Questions
Because KYBELLA® causes the destruction of fat cells, the affected cells can no longer store or accumulate fat. After reaching your desired aesthetic, you will not need further treatment.
Yes. Chemical peels remove the dead skin cells from the top layer of your skin. It can help to decrease skin damage and make the skin appear more youthful and flawless. It aids in the generation of collagen for younger-looking skin, as well as the enhancement of skin color and tone and the healing of specific skin conditions like acne and fine wrinkles.
A hydrafacial basically cleans your skin deep enough to remove micro-substances and impurities in your face. With that, exfoliation takes place. As the exfoliation gets deeper in the epidermis, new cells in the skin are triggered to replace old and oxidized ones.
BOTOX® Cosmetic is a treatment designed to relax muscles that cause wrinkles through small injections administered to target areas. BOTOX® Cosmetic has been FDA approved for use for the temporary improvement in the appearance of:
Moderate to severe glabellar lines (between the brows) associated with corrugator and/or procerus muscle activity
Moderate to severe lateral canthal lines (crows feet) associated with orbicularis oculi activity
Moderate to severe forehead lines associated with frontalis activity
Off-label Uses: Other areas that BOTOX® Cosmetic can be injected for improvement include:
Lip Flip: Injection above upper lip to give the appearance of a fuller upper lip
DAO: Injection below corners of the lower lip for improvement in a "turned down smile"
Axilla: Injections under the arms for improvement in excessive sweating
You can see the results of your microneedling treatment in as little as seven days. Take note that the exact timeframe may vary from patient to patient, based on the natural healing ability of their body. On one hand, most patients will start noticing skin improvements in as short as one week. On the other hand, major changes may reveal within a span of three to four weeks. Collagen induction therapy involves making small pricks in your skin so your skin will need time to heal itself. The full results of your microneedle sessions will be evident in a few weeks once the collagen production process has been completed.
The benefits of dermaplaning are best achieved throughout ongoing treatments, although you may see some results after just one treatment. It is usually recommended to have a treatment every four weeks to eliminate the buildup of dead skin cells. You may notice a notable improvement in the look of your skin after the treatment.
Aging causes a lose of volume in key areas of the face contributing to folds, wrinkles, hollow temples, thinning lips, sunken eyes, and an overall older appearance. Fillers can be used to restore volume loss, smooth out folds and wrinkles, and improve contours to achieve natural results without altering facial expression. Certain fillers can also be used to correct scars.
Xeomin was developed with a uniquely purified formula without unncecessary protiens. Because of the simple make-up of this toxin the body is unlikely to become resistant to the results of this treatment.
Medical facials are often administered by certified nurses or nurse practitioners, while a licensed esthetician performs honey enzyme or fire & ice facials. Facials involving chemical peels or hydrafacials can have a more significant impact to reduce signs of aging and other skin concerns. Honey enzyme facials and fire & ice facials are more focused on exfoliation and revitalizing complexion.
Collagen builders are tremendously effective in treating an extensive range of concerns, such as crow's feet, fine lines, and wrinkles between the brow. This ability to treat these clear signs of aging is why people tend to turn to this treatment, as it helps in restoring that youthful glow.
PRF injections treat a type of hair loss called androgenic alopecia (baldness) in men and women. The treatment prevents regressive hair loss and promotes new hair growth. PRF injections also stimulate new hair growth after hair transplants.
PRP and PRF serums have healing properties that target the cause of dark circles and under-eye bags. The most notable effect on dark circles and bags is collagen production. Collagen plumps up your skin to improve dark circles and makes your skin more elastic to resolve under-eye sagging.
This treatment focuses on removing the problematic outer layer of skin, which stimulates new skin to grow. The procedure can eliminate scars, wrinkles, lines, pigmentation, rough skin, and more.
RF microneedling is a minimally invasive procedure that helps to reduce wrinkles, acne scars, and stretch marks. The treatment creates tiny micro-injuries in the skin, stimulating collagen production. It also delivers radiofrequency energy into the deeper layers of the skin, promoting tightening and rejuvenation.