Skin Tightening in Paris, KY
Nestled close to Paris, Kentucky, 4esthetics Lounge stands as the pinnacle of med spa luxury in our state, blending the best of relaxation and aesthetic allure. Our team is devoted to crafting a unique journey tailored to your specific desires. We showcase cutting-edge radiofrequency microneedling and skin-tightening techniques, ensuring you depart with a newfound sense of vitality and glow. At 4esthetics Lounge, your safety and relaxation are paramount. Our immaculate and tranquil setting is the ideal backdrop for indulgence and rejuvenation. Entrust your aesthetic aspirations to our elite team of nurse practitioners and certified professionals, who are adept at curating treatments anchored in the latest scientific insights, exclusively for you. Our Virtue RF Microneedling procedure is a testament to our commitment to advanced technology. Harnessing the power of radiofrequency energy, this treatment aims to rejuvenate your skin by diminishing fine lines, wrinkles, and laxity, bestowing upon you a visage that exudes youth and luminosity. Our ethos is grounded in the belief that each guest is entitled to unparalleled care and dedication. We've cultivated a space where serenity meets luxury, creating the ideal environment for your consultation. Whether you're seeking a singular procedure or a holistic beauty journey, our experts stand ready to guide you. Reach out and secure your appointment at 4esthetics Lounge near Paris, KY, and embark on a transformative quest for unparalleled beauty.
Skin Tightening & Treatments
Schedule a free consultation with us today to learn more about how skin tightening treatments can help you feel and look younger.
Skin Tightening & RF Microneedling
Situated close to Paris, 4esthetics Lounge is your destination for pioneering skin rejuvenation solutions. We proudly present our advanced skin tightening methods that effectively diminish signs of aging, such as fine lines, wrinkles, and loose skin. Dive into the future of skincare with our RF microneedling—a state-of-the-art procedure that employs radiofrequency energy, reaching the under layers of the skin to boost collagen formation and give you a vibrant, young glow. What sets our RF microneedling apart from conventional treatments is its dual action. Our specialized equipment creates tiny punctures and concurrently emits radio frequency heat. This heat delves deep, spurring collagen synthesis and fortifying the skin, resulting in a taut and elevated look. Tailored to your distinct needs, RF microneedling can target particular zones, such as the face, neck, or hands, all while ensuring maximum comfort and minimal recovery time. Our seasoned team of nurse practitioners and accredited professionals at 4esthetics Lounge are masters in skin tightening treatments. Recognizing the uniqueness of every individual's skin, we emphasize individualized strategy. To align with this, we facilitate personalized consultations, crafting a treatment plan that resonates with your distinct requirements.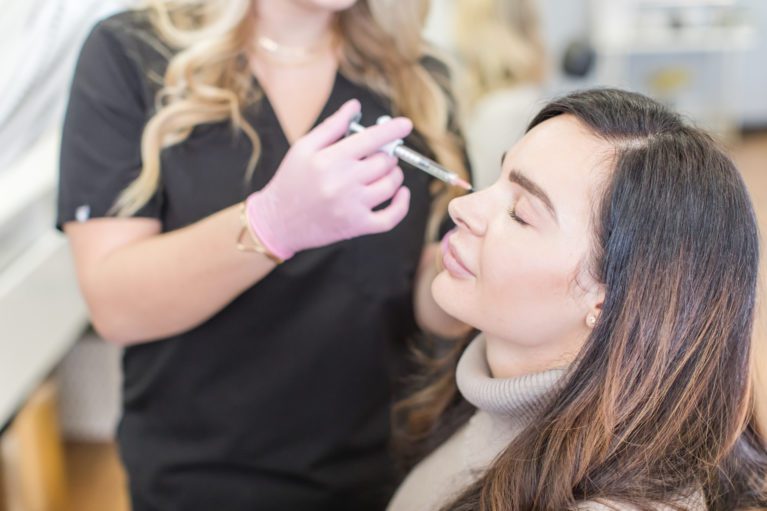 Smart RF Microneedling
Paris, KY
Experience the future of skin tightening with Smart RF microneedling, featuring Virtue RF's groundbreaking Robotic Precision Delivery system. This revolutionary approach propels microneedling into a new dimension. Unlike conventional single-needle techniques, the Smart RF methodology employs a 36-needle system, ensuring unmatched accuracy and remarkable outcomes. The Virtue RF-powered Smart RF microneedling treatment boasts an array of advantages, including skin revitalization, brightening, and elevation, coupled with diminishing redness, fine lines, wrinkles, acne outbreaks, and the effects of sun exposure. This low-intrusion procedure stands out for its efficacy and adaptability, ensuring optimal comfort without sacrificing result quality. It's the epitome of tailor-made skincare, adapting to a spectrum of needs and aesthetic desires.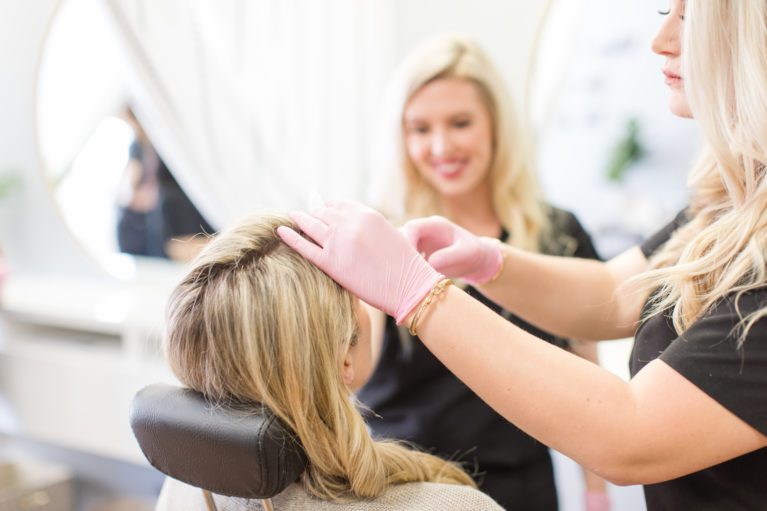 Deep RF Microneedling
Paris, KY
Introducing Deep RF microneedling, enhanced by the pioneering Virtue RF technology—a transformative skincare treatment that delivers impressive and enduring results with zero recovery time. This method dives into the layers of the skin, stimulating collagen synthesis, and thus, revealing a complexion that is tighter, smoother, and invigorated. Throughout the procedure, a specialized apparatus makes tiny punctures and transmits radio frequency energy. The myriad benefits include the diminishment of wrinkles, upliftment of lax skin, harmonizing of skin color, and fading of age-related blemishes. What sets Virtue RF apart is its ingenious cooling plate coupled with 36 diminutive needles, ensuring superior skin tightening results, all while ensuring a relaxing experience.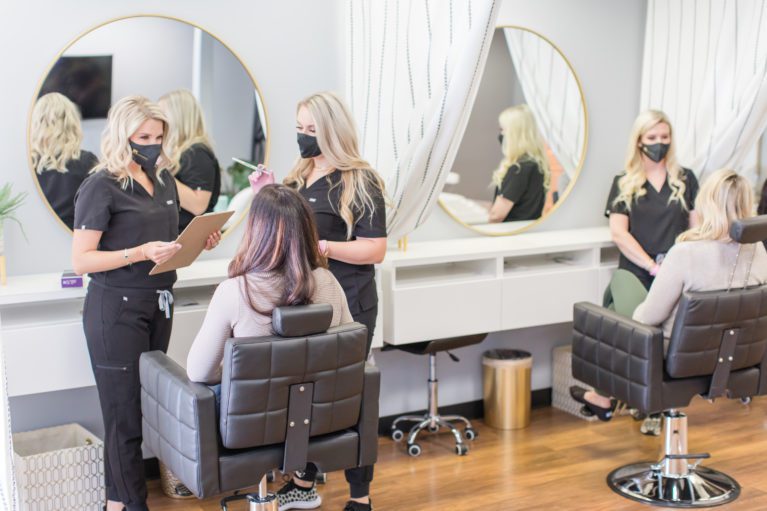 Exact RF Microneedling
Paris, KY
Discover Exact RF microneedling, a state-of-the-art skin renewal technique harnessing the power of fractional radiofrequency. This innovative method is a beacon for those seeking to reduce wrinkles and amplify skin tautness with minimal recovery time. This non-invasive procedure utilizes a singular needle, ensuring precision when focusing on intricate facial regions, especially around the eyes and mouth. By galvanizing collagen regeneration, Exact RF microneedling promises a visage that's both refreshed and youthful. With adjustable intensity levels, the treatment caters to desired results. This version excels in combating skin slackness, bestowing a genuine lift and firmness to your countenance. It's a golden ticket for anyone yearning for a renewed, age-defying glow.
Schedule a Skin Tightening Consultation
Contact us today to learn more about our skin tightening treatments at 4esthetics Lounge.
Skin Tightening Treatments at 4esthetics Lounge Paris, KY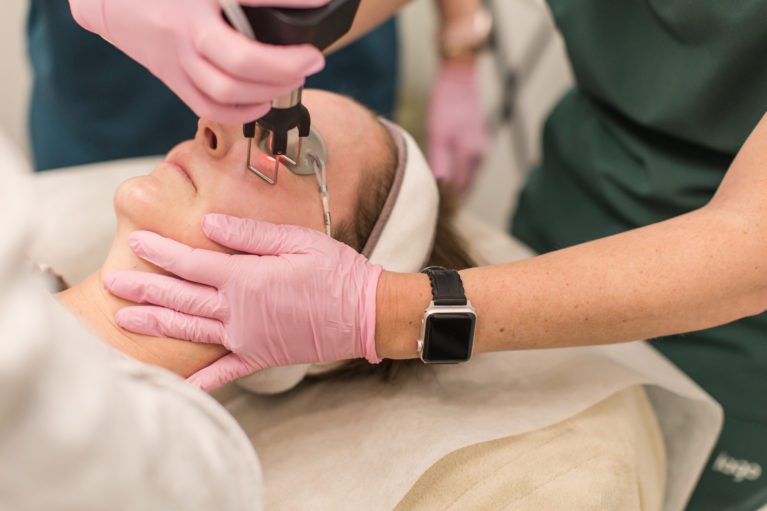 What to Expect with Skin Tightening
Paris, KY
Our dedication at 4esthetics Lounge is twofold: to ensure you attain your dream results and to provide unparalleled care throughout your journey. Your experience commences with a no-charge consultation. Here, our seasoned providers collaborate with you, pinpointing target areas and sculpting a treatment blueprint that speaks directly to your unique desires and aspirations. To prime your skin for its transformation, we suggest steering clear of direct sunlight and potential skin irritants prior to your inaugural session. Once you're with us, every aspect of your chosen treatment will be elucidated, assuring you're both informed and comfortable. The frequency of your sessions hinges on your personal objectives and needs; rest assured, we'll chart a path that aligns with both your time and financial considerations. At the heart of 4esthetics Lounge is a roster of certified professionals and nurse practitioners, well-versed in an array of skin revival procedures like Smart RF, Deep RF, and Exact RF microneedling. Harnessing the latest in technological advancements, our mission is to curate results that are as efficacious as they are safe.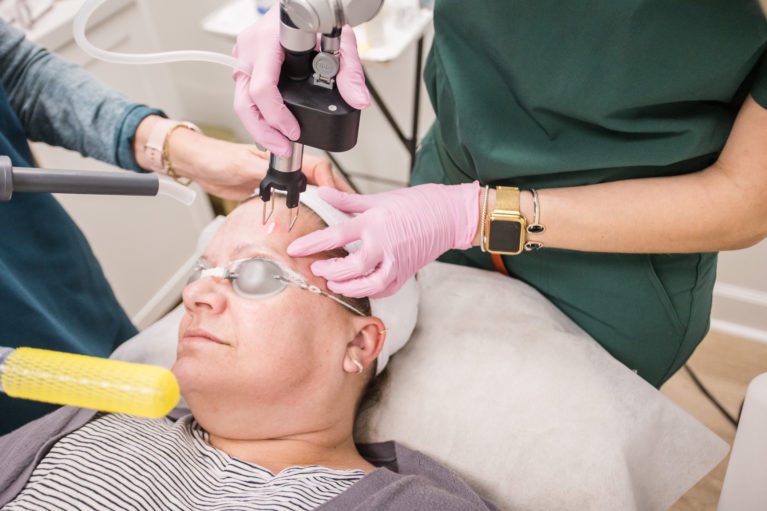 RF Microneedling & Skin Tightening Results
Paris, KY
By harnessing the power of radiofrequency energy, we delve deep into your skin's layers, igniting collagen regeneration and ensuring a tighter skin surface. The outcome? A skin rebirth, characterized by vibrancy, enhanced texture, and a youthful glow. Though individual experiences may differ, a significant number of our patrons witness transformative changes within weeks post-treatment. To fully reap the benefits, a series of sessions, tailored to your personal aspirations and skin needs, might be recommended. Post-procedure, it's not uncommon to encounter slight redness or minor swelling, which typically fades within days. However, many relish an instantaneous elevation in skin quality, with the most profound changes unfolding progressively. As time goes on, anticipate a consistent enhancement in your skin's elasticity and texture. To ensure these results stand the test of time, we advise routine annual touch-ups. Nestled close to Paris, 4esthetics Lounge is your sanctuary for RF microneedling and a host of other skin-transforming treatments.
RF Microneedling & Skin Tightening with 4esthetics Lounge
At 4esthetics Lounge, our proficient certified professionals and nurse practitioners are passionate about guiding you on a journey to achieve your aesthetic aspirations using the forefront of RF microneedling innovations and treatment strategies. We harness a methodical, data-centric methodology, meticulously crafting treatment plans that resonate with your individual needs and expectations. Safety and efficacy stand paramount in our services, ensuring top-tier care that aims for stellar outcomes. Our expertise spans advanced treatments including Virtue RF's trailblazing Smart RF, Deep RF, and Exact RF microneedling, positioning us to bring your envisioned results to life. At 4esthetics Lounge, our mission transcends aesthetics; it's about instilling confidence and illuminating your innate beauty. We eagerly await the opportunity to be part of your transformative journey.
Frequently Asked Questions
RF microneedling is a minimally invasive procedure that helps to reduce wrinkles, acne scars, and stretch marks. The treatment creates tiny micro-injuries in the skin, stimulating collagen production. It also delivers radiofrequency energy into the deeper layers of the skin, promoting tightening and rejuvenation.
Common side effects of skin tightening include mild redness or swelling, numbness, itching, or burning sensation. These generally subside within a few hours or days after the procedure. Other less common side effects may include skin texture and color changes, scarring, bruising, and sagging of the treated area.
The effects of skin tightening can last up to two years, depending on the type of treatment used and other factors such as lifestyle choices. Skin tightening treatments typically provide more long-lasting results than non-invasive procedures like radiofrequency or ultrasound therapy. However, it is essential to remember that these treatments do not stop the natural aging process, and regular maintenance is recommended to maintain the effects of skin tightening.
The effects of skin tightening treatments can be seen almost immediately, with the full results appearing within a few months after your final treatment. Depending on the extent of sagging or loose skin, you may need multiple treatments over time to achieve your desired outcome. During this post-treatment recovery period, you'll notice a gradual improvement in skin laxity and a more youthful, firmer-looking appearance. Your skin will also feel smoother, tighter, and better hydrated. Ultimately, you should be pleased with the results of your skin tightening treatments as they can help to reduce wrinkles and fine lines while enhancing your overall complexion.
When it comes to skin tightening treatments, there is no one-size-fits-all answer. Skin aging and laxity can occur at different rates depending on factors such as age, genetics, lifestyle habits, and skincare routine. As such, the ideal schedule for skin tightening treatments will vary from person to person. Generally, it is recommended to start with a series of treatments at 3-4 week intervals for optimal results.