Professional Facials in Lexington, KY
4esthetics Lounge, situated in the heart of Lexington, KY, is a premium med spa dedicated to providing our clients with customized skincare solutions. Every individual's skin is unique, and at 4esthetics Lounge, the emphasis is on creating personalized treatment plans to address specific skincare needs. Safety remains paramount; the spa is unwavering in its commitment to ensuring that every treatment is both safe and effective. Driving our methodologies are data-driven treatments, ensuring that the latest research and proven techniques are at the forefront of our services. One of the standout features of our medspa is our team of professionals; each service is rendered by certified practitioners who possess both the expertise and passion for skincare. Visitors are invited to relax in our serene lounge environment, a place where luxury meets tranquility. Among the popular treatments on offer are our signature facials – the honey enzyme facial, the invigorating fire & ice facial, and the clear acne facial. Each of these specialized facials is priced at $135 per session, ensuring that clients receive value for their investment in their skin's health and radiance.
Professional Facials & Skincare Treatments
Schedule a free consultation with us today to learn more about how facials can help you feel and look younger. 
Facials at 4esthetics Lounge in Lexington, KY
Facials are treatments dedicated to cleansing, nourishing, and rejuvenating the skin. Their history is as ancient as civilization itself, with records suggesting that even ancient Egyptians sought skincare treatments reminiscent of today's facials. Over time, facials have been adapted, improved, and perfected, but the underlying principle remains the same: to bestow the skin with a radiant, healthy glow. The most common reasons individuals seek facials range from a desire to tackle specific skin issues such as acne, blackheads, and signs of aging, to simply indulging in a relaxing self-care ritual. The allure of facials lies in their dual nature: they offer a therapeutic experience that melts away stress while also producing tangible, aesthetic results. Virtually anyone can benefit from facials, whether it's for skin maintenance, healing, or enhancement. The procedure typically involves steps like cleansing, exfoliating, extracting impurities, massaging, and applying serums or masks. Through these processes, facials promote increased blood circulation, clear clogged pores, hydrate the skin, and infuse it with nutrients, leaving it refreshed and revitalized.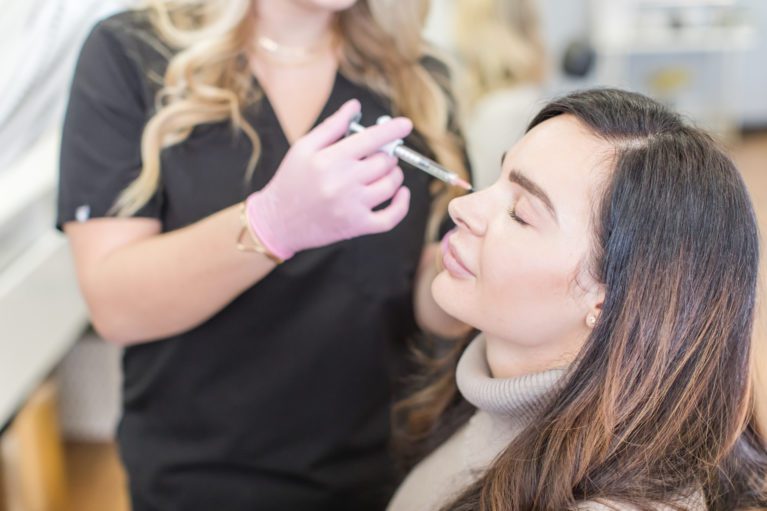 Honey Enzyme Facial
Lexington, KY
A honey enzyme facial is a skincare treatment that harnesses the natural properties of honey, particularly its enzymes, to exfoliate and nourish the skin. This type of facial is designed to gently remove dead skin cells, promote cell regeneration, and deeply hydrate, making the skin appear more radiant and youthful. Given honey's natural antibacterial properties, the honey enzyme facial is especially beneficial for individuals with acne-prone or sensitive skin. However, due to its gentle and nourishing nature, virtually anyone looking for a rejuvenated and glowing complexion would benefit from this treatment.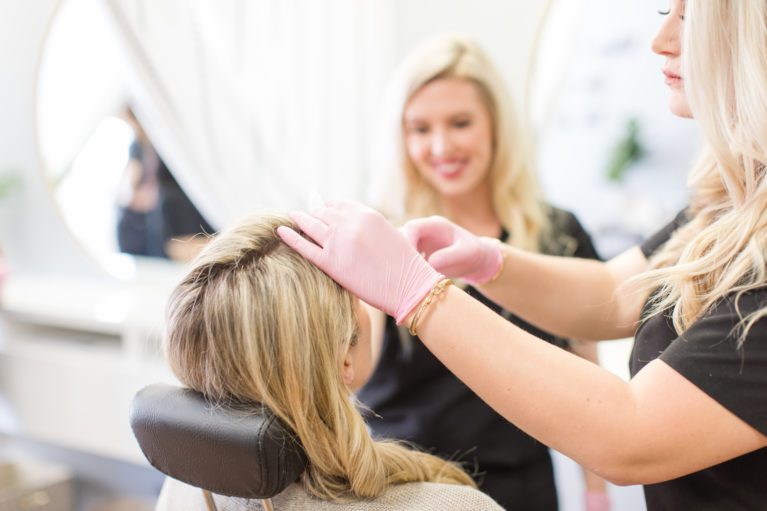 Fire & Ice Facial
Lexington, KY
A fire & ice facial, often referred to as the "red carpet facial," is a multi-step treatment designed to resurface the skin, reduce fine lines and wrinkles, and deep cleanse blocked pores. It typically involves a sequence where a "fire" mask, which contains ingredients like glycolic acid and retinol, is used to warm and exfoliate the skin. This is then followed by a cooling "ice" mask, usually containing hyaluronic acid, aloe vera, and herbal antioxidants, to soothe and tighten the skin. The purpose of this facial is to deliver immediate results with smoother, firmer, and more radiant skin. The fire & ice facial is particularly beneficial for those seeking rapid and visible skin improvements, making it popular before events. It is suitable for most skin types.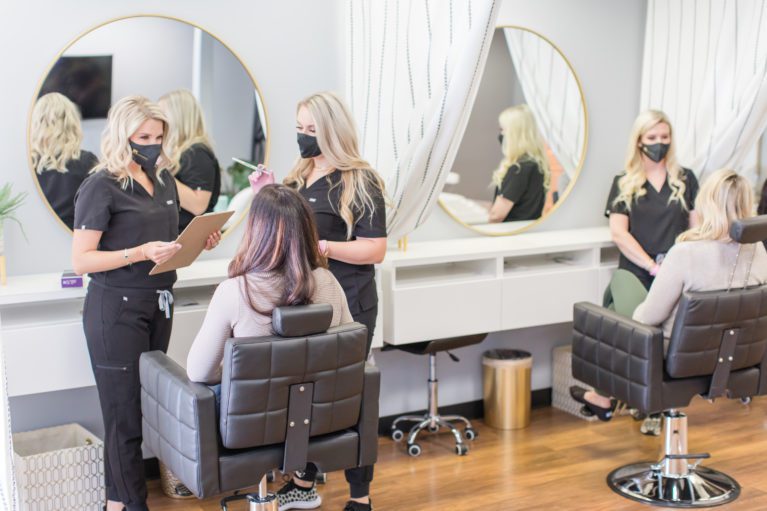 Clear Acne Facial
Lexington, KY
The clear acne facial is a specialized treatment tailored for those grappling with active acne. The procedure initiates with a steam double cleanse, ensuring a thorough purging of impurities. A gentle exfoliant is then applied to slough away dead skin cells, followed by a mud masque, meticulously chosen for its calming properties on active acne. The treatment further indulges the skin with a cooling and hydrating masque, enhanced by blue LED light therapy, renowned for its prowess in neutralizing acne-causing bacteria. Concluding the facial is the application of soothing serums targeting the breakouts, complemented by a moisturizer and SPF to protect and nourish the skin. This comprehensive facial is potent against and is safe to undergo throughout the year.
Schedule a Free Consultation
Contact us today to learn more about our rejuvenating facials at 4esthetics Lounge
Facial Treatments at 4esthetics Lounge Lexington, KY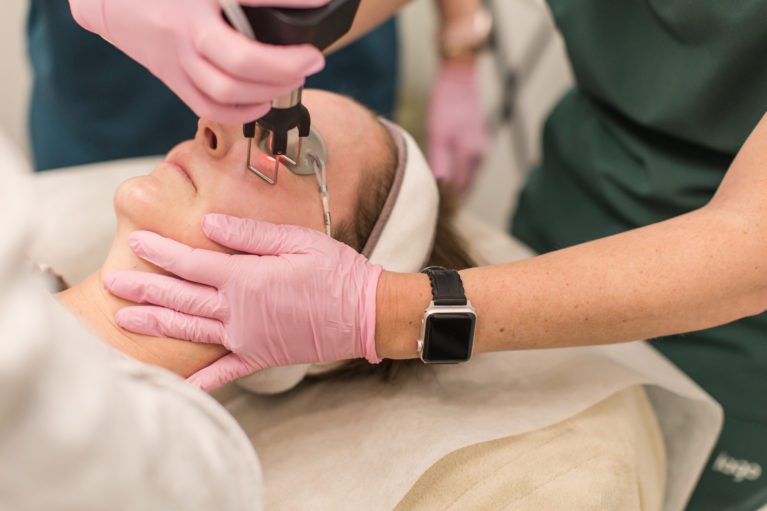 What to Expect with Facials at 4esthetics Lounge
Lexington, KY
At 4esthetics Lounge, every journey to rejuvenated skin begins with a complimentary consultation. This initial interaction is foundational, as it allows our skincare professionals to understand individual needs, concerns, and objectives, thereby crafting a personalized treatment plan tailored specifically for each client. If you're preparing for your first session, it's essential to come with a clean face, free from makeup, and to communicate any skincare products or routines you've been using, as this can significantly influence treatment recommendations. During the initial consultation, we can discuss your specific skincare needs and develop a personalized treatment plan. While the number of sessions varies depending on the individual and their specific needs, clients typically benefit from multiple sessions spaced out over several weeks for optimal results. Our commitment doesn't end with the treatment; 4esthetics Lounge takes a proactive stance on follow-up and aftercare. We ensure that every client is well-informed about post-treatment care, potential side-effects, and the best practices to maintain and enhance results. Moreover, for sustained skin health and radiance, annual maintenance sessions are often recommended, ensuring that your skin remains at its best year-round.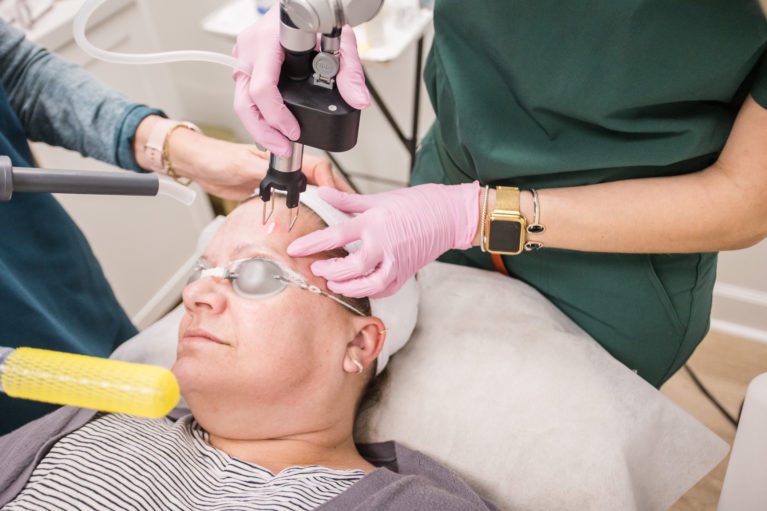 Results of Facials from 4esthetics Lounge
Lexington, KY
Facials work by leveraging a combination of treatments and products to deeply cleanse, exfoliate, hydrate, and rejuvenate the skin. These procedures aid in the removal of impurities, boost blood circulation, promote cell turnover, and infuse the skin with essential nutrients, leading to improved skin texture and appearance. Following a facial, many individuals often feel an immediate sense of refreshed and hydrated skin. However, the visible results, such as reduced blemishes and a radiant glow, might take a couple of days to manifest, especially as the skin continues to heal and regenerate post-treatment. Immediately after a facial, it's not uncommon for the skin to appear slightly red or flushed, especially after intensive treatments or extractions. Some might also experience mild breakouts as impurities surface, but these are temporary and usually resolve quickly. With regular facials incorporated into one's skincare routine, over time, individuals can expect to see a consistent and marked improvement in skin clarity, elasticity, and overall complexion. Fine lines may reduce, acne might become less frequent, and the skin often adopts a naturally healthy and luminous appearance.
Schedule a Facial with 4esthetics Lounge
At 4esthetics Lounge in Lexington, we pride ourselves on being more than just another medspa. Here's why you should entrust us with your facial needs:
Expertise You Can Trust: Our medspa employs a team of certified professionals, equipped with the latest training in techniques and products. Our goal? Delivering the most exceptional results tailored just for you. From the moment you step in, our welcoming environment and attentive staff ensure you feel at ease, ready to address any skin concerns you might have. Beginning with a comprehensive evaluation, we promise to use products and methods most compatible with your unique skin type and needs.
Innovation Meets Tradition: At 4esthetics Lounge, we harmoniously meld traditional facial treatments with cutting-edge advancements. As pioneers in data-driven facials, we're always abreast of the latest and most efficient treatment modalities. We integrate these evidence-based techniques into our treatments, guaranteeing you not only feel pampered but also benefit from scientifically proven results.
Our Commitment Doesn't End Post-Treatment: Satisfaction doesn't end with the treatment. We stand firmly by our follow-up guarantee, ensuring you're more than just satisfied; you're delighted! Your skin is a testament to our dedication, and we want nothing short of perfection for you.
So, why wait? Take the first step to rejuvenated, radiant skin with Lexington's best. Choose 4esthetics Lounge for an unparalleled facial experience. Your skin deserves nothing less than excellence, and that's precisely what we offer. Book your appointment today!
Frequently Asked Questions
Medical facials are often administered by certified nurses or nurse practitioners, while a licensed esthetician performs honey enzyme or fire & ice facials. Facials involving chemical peels or hydrafacials can have a more significant impact to reduce signs of aging and other skin concerns. Honey enzyme facials and fire & ice facials are more focused on exfoliation and revitalizing complexion.
At home facials are a great way to supplement your skincare routine several times a week. They can be quick and convenient, depending on the treatment plan and products recommended by your esthetician. Professional med spa facials offer deeper cleansing and extraction with an emphasis on eliminating fine lines and creating a holistic health to your facial skin.
Your skincare needs are unique! The most effective treatment for you will depend on your skin type and problem areas that you'd like to address. Our honey enzyme facials and fire & ice facials are good for all skin types! Additional treatments, such as hydrafacials, chemical peels, and microneedling, should be discussed with your esthetician during your free consultation.
The best facial treatment for aging skin will depend on your skin type and regular skincare routine. Preventing aging skin is easier than reversing aging skin, so be sure to start your treatments early. This may mean anything from a deep cleanse to a chemical peel to toxins. Schedule a free consultation to discuss your personalized treatment plan with a certified professional.
Yes, anti-aging facials can help with fine lines and wrinkles. Facials for aging skin improve circulation by stimulating the lymphatic system, which helps to remove toxins from your body.
Yes! Facials can be very beneficial to rosacea because they remove dead skin cells, which helps reduce redness and inflammation in the face. Facials also help prevent acne breakouts, which is often a symptom of rosacea, by removing excess oils and bacteria from the skin.