Skin Tightening in Versailles, KY
Our skin, the biggest organ of our body, deserves utmost care and attention to retain its vibrant and youthful allure. As time goes on, it's natural for our skin to exhibit signs of aging such as reduced elasticity and visible fine lines. Combat these age indicators with RF microneedling, a sought-after procedure that promises remarkable outcomes without the rigors of invasive surgery or extended recovery periods. At 4esthetics Lounge, located near Versailles, KY, we prioritize a serene experience for our guests during every skincare session. Our practitioners include licensed nurses and specialists who oversee all skin rejuvenation and RF microneedling processes, guaranteeing your well-being. Embracing the latest evidence-informed strategies, we pledge measurable outcomes. Let's collaborate during our consultation to design a skincare regimen that magnifies your skin's radiance.
Skin Tightening & Treatments
Schedule a free consultation with us today to learn more about how skin tightening treatments can help you feel and look younger.
Skin Tightening & RF Microneedling
Skin firming procedures invigorate and replenish collagen and elastin synthesis deep within the layers of your skin, enhancing its tightness and reducing the appearance of lines and wrinkles. RF Microneedling is a cutting-edge technique that marries the benefits of standard microneedling with radiofrequency (RF) energy. This treatment uses a distinct handheld instrument fitted with "charged" needles to introduce tiny incisions on the skin's exterior. This process enables the RF energy to delve deeper into the skin. By infusing RF energy, the skin is enriched with vital enzymes and proteins, delivering outcomes that are rapid and more profound than standard microneedling. The warmth generated in the deeper layers of the skin also bolsters the production of collagen, accentuating the skin's firmness as these collagen levels make their way to the surface.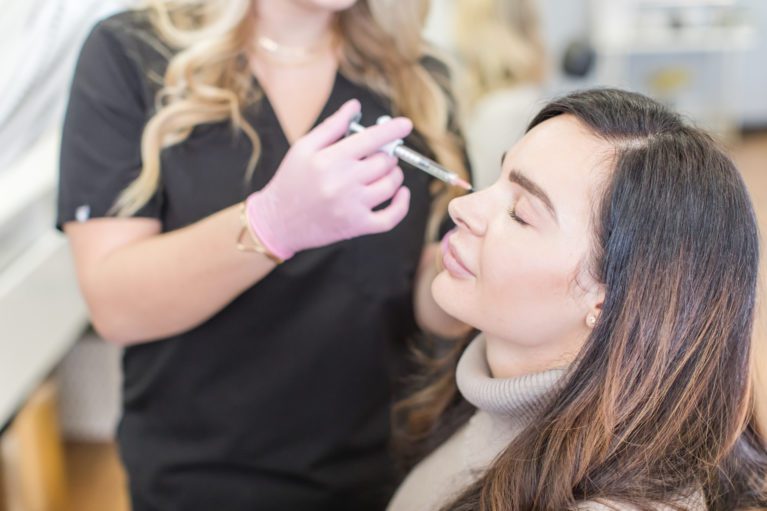 Smart RF Microneedling
Versailles, KY
Smart RF Microneedling is a skin-firming solution that employs Robotic Precision Delivery, ensuring an entirely regulated therapeutic experience. The advanced RF mechanism features 36 needles, providing a more consistent pressure distribution compared to a lone needle approach. Notably, the treatment guarantees enhanced comfort without compromising on efficacy. This gentle intervention boasts benefits such as skin tightening, enhancement of skin luminosity, uplifting facial contours, alleviating redness, softening facial lines and wrinkles, curbing acne episodes, and mending sun-induced damage.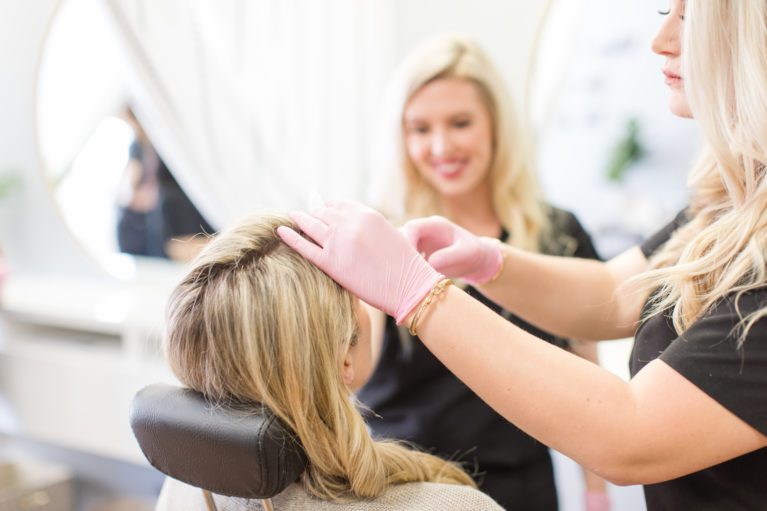 Deep RF Microneedling
Versailles, KY
Deep RF Microneedling stands out as a leading non-surgical laser procedure, offering both assured safety and enduring outcomes without the need for recovery time. Utilizing a cooling plate combined with 36 precision needles, it amplifies the skin tightening benefits. Throughout the session, your aesthetic surgeon employs a dedicated laser to reach the profound layers of your skin. This method invigorates collagen synthesis, culminating in a skin texture that's both smoother and more taut, exuding a youthful glow. Benefits include elevating drooping skin, softening lines and wrinkles, achieving a harmonized skin shade, and fading age-related blemishes.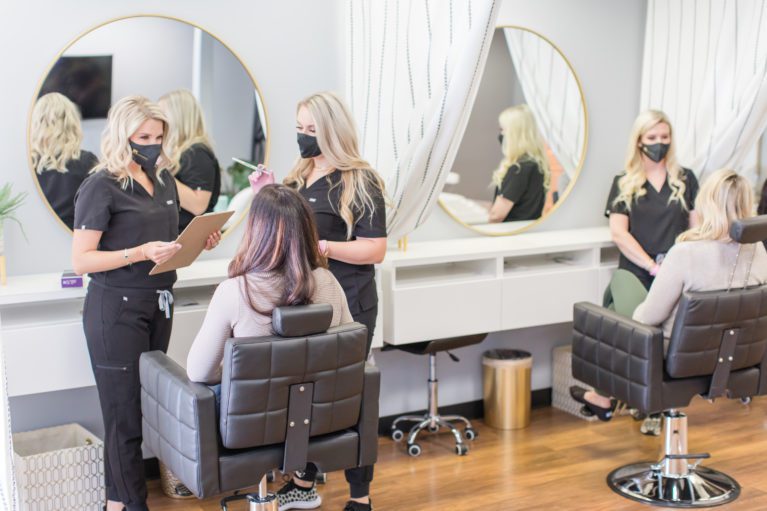 Exact RF Microneedling
Versailles, KY
Exact RF Microneedling is a non-surgical method that employs fractional radiofrequency (RF) technology to grant noticeable wrinkle mitigation and skin-tightening advantages with minimal to no recovery time. The technique harnesses a singular needle to adeptly and securely address sensitive facial areas, like the regions around the eyes and mouth. This laser-facilitated process rejuvenates your appearance by stimulating collagen growth and reducing wrinkle visibility. With its innovative approach, it offers three distinct intensity levels, allowing customization to match individual preferences and goals. Precision RF also addresses skin looseness, imparting a lift and tautness to the complexion.
Schedule a Skin Tightening Consultation
Contact us today to learn more about our skin tightening treatments at 4esthetics Lounge.
Skin Tightening Treatments at 4esthetics Lounge Versailles, KY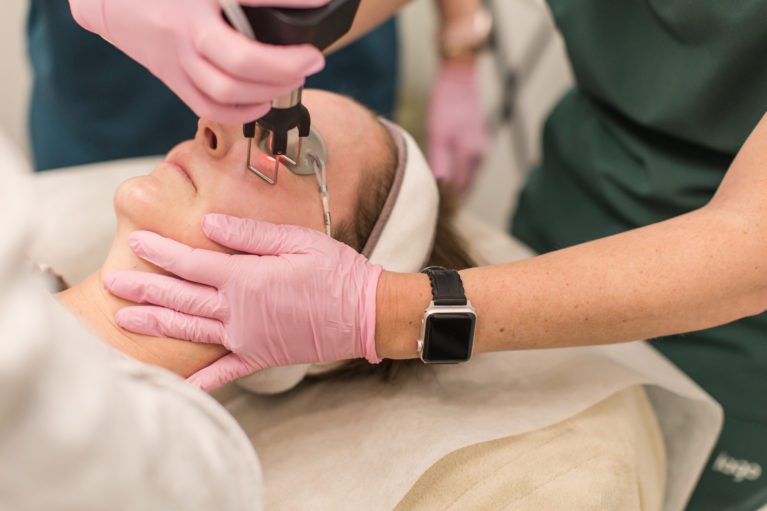 What to Expect with Skin Tightening
Versailles, KY
At 4esthetics Lounge, our seasoned professionals are delighted to provide a complimentary consultation to address your concerns and help you determine if skin tightening aligns with your aspirations. Prior to any laser interventions, it's essential to refrain from using certain skincare products that may elevate potential complications during or post-procedure. In the consultation phase, our skincare maestros will gauge your skin's health and curate a tailor-made regimen to fulfill your objectives. They'll pinpoint the specific areas for attention and advise on the number of sessions required to meet your desired outcome. This process effectively reduces wrinkles, faint scars, age blemishes, and other signs of maturing. Remarkably, post a singular session, you'll observe enhancements in your skin's vibrancy and resilience. For optimal benefits, commencing a series of treatments at intervals of 3–4 weeks is advisable. We also suggest periodic touch-ups every few months during the inaugural year.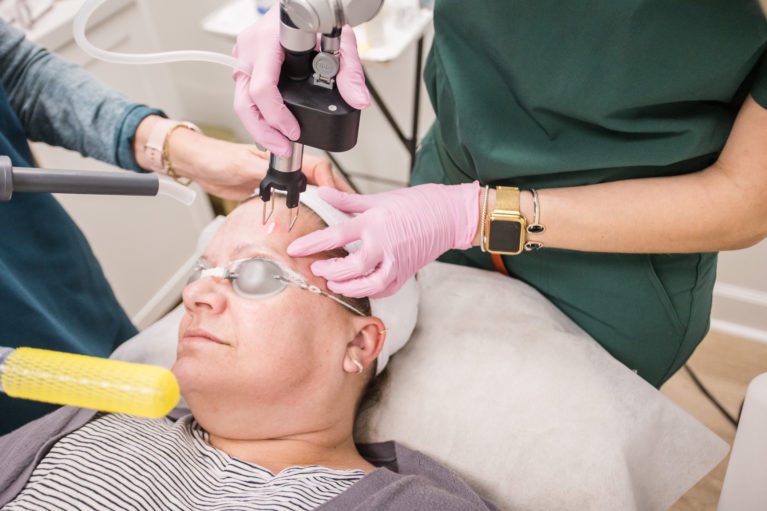 RF Microneedling & Skin Tightening Results
Versailles, KY
RF Microneedling employs needles adorned with gold plating, gently delving into the skin to deliver radiofrequency (RF) energy into its deeper layers. This RF emission creates warmth at depths conducive for continuous and progressive benefits in collagen generation, skin firming, and rejuvenation. With RF Microneedling marrying two subtly invasive techniques, it's adept at eradicating pronounced wrinkles and lines, firming slackened skin, and refining skin's hue. While a mild redness may surface post-procedure, discomfort or sensitivity is typically minimal. Visible improvements emerge between 3–6 months, though the precise duration hinges on the nature and extent of your skin concern. Generally, individuals undergo at least four sessions, spaced 3–8 weeks apart. Post the primary sequence of treatments, the effects tend to sustain for around a year. An annual refresher session is advised to preserve the achieved enhancements.
RF Microneedling & Skin Tightening with 4esthetics Lounge
Our facility is at the forefront of providing state-of-the-art skin solutions, ensuring our clients experience outstanding outcomes. We consistently align with the latest and most effective treatment methodologies, embracing top-tier, research-supported techniques. Prior to initiating any procedure, we conduct a comprehensive evaluation to ascertain the ideal products and interventions tailored to each client. Schedule a complimentary consultation with us, and our dedicated professionals will craft a skin-tightening regimen for you. Each year, 4esthetics Lounge assists countless individuals through a myriad of treatments, guiding them towards achieving younger and uplifted skin with enduring effects.
Frequently Asked Questions
RF microneedling is a minimally invasive procedure that helps to reduce wrinkles, acne scars, and stretch marks. The treatment creates tiny micro-injuries in the skin, stimulating collagen production. It also delivers radiofrequency energy into the deeper layers of the skin, promoting tightening and rejuvenation.
Common side effects of skin tightening include mild redness or swelling, numbness, itching, or burning sensation. These generally subside within a few hours or days after the procedure. Other less common side effects may include skin texture and color changes, scarring, bruising, and sagging of the treated area.
The effects of skin tightening can last up to two years, depending on the type of treatment used and other factors such as lifestyle choices. Skin tightening treatments typically provide more long-lasting results than non-invasive procedures like radiofrequency or ultrasound therapy. However, it is essential to remember that these treatments do not stop the natural aging process, and regular maintenance is recommended to maintain the effects of skin tightening.
The effects of skin tightening treatments can be seen almost immediately, with the full results appearing within a few months after your final treatment. Depending on the extent of sagging or loose skin, you may need multiple treatments over time to achieve your desired outcome. During this post-treatment recovery period, you'll notice a gradual improvement in skin laxity and a more youthful, firmer-looking appearance. Your skin will also feel smoother, tighter, and better hydrated. Ultimately, you should be pleased with the results of your skin tightening treatments as they can help to reduce wrinkles and fine lines while enhancing your overall complexion.
When it comes to skin tightening treatments, there is no one-size-fits-all answer. Skin aging and laxity can occur at different rates depending on factors such as age, genetics, lifestyle habits, and skincare routine. As such, the ideal schedule for skin tightening treatments will vary from person to person. Generally, it is recommended to start with a series of treatments at 3-4 week intervals for optimal results.