4esthetics Lounge Dermal Fillers in Richmond, KY
Nestled near the heart of Richmond, KY, 4esthetics Lounge is a groundbreaking medical spa that offers an expansive variety of dermal fillers. Our practice is bustling with a team of skilled nurse practitioners and certified providers committed to providing safe, data-driven treatments that cater to your unique needs, ensuring that you walk out of our doors feeling more confident and radiant. So, what's holding you back? Drop an inquiry or come kick back and relax in our spa-lounge environment while we work to help you recover that youthful look.
Dermal Fillers & Cosmetic Injectables
Schedule a free consultation with us today to learn more about how dermal fillers can help you feel and look younger. 
About Dermal Fillers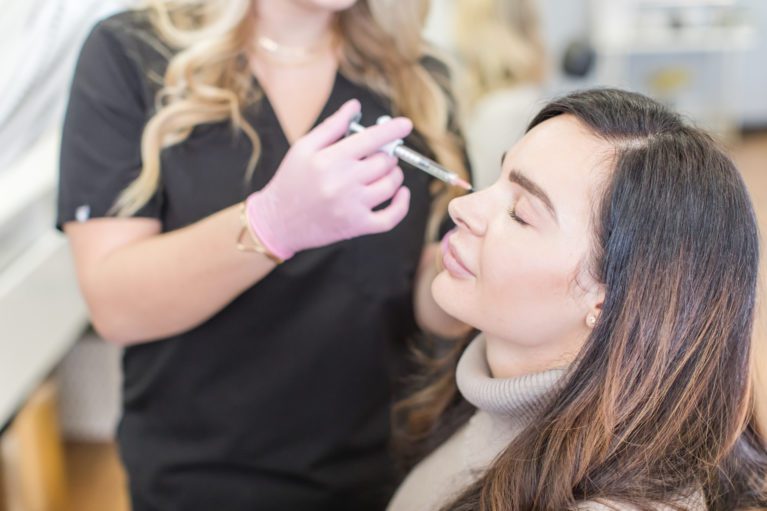 Dermal Fillers Popularity
Richmond, KY
In recent years, dermal fillers have taken the beauty industry by storm. However, this is hardly a surprise. This non-invasive treatment is one of the most effective ways to add volume to your skin, smooth out any stubborn fine lines or wrinkles, plump out your lips, and restore that youthful glow that slowly fades out with time. So, if you are currently searching for ways to enhance your natural beauty, we suggest looking no further than our dermal filler plans.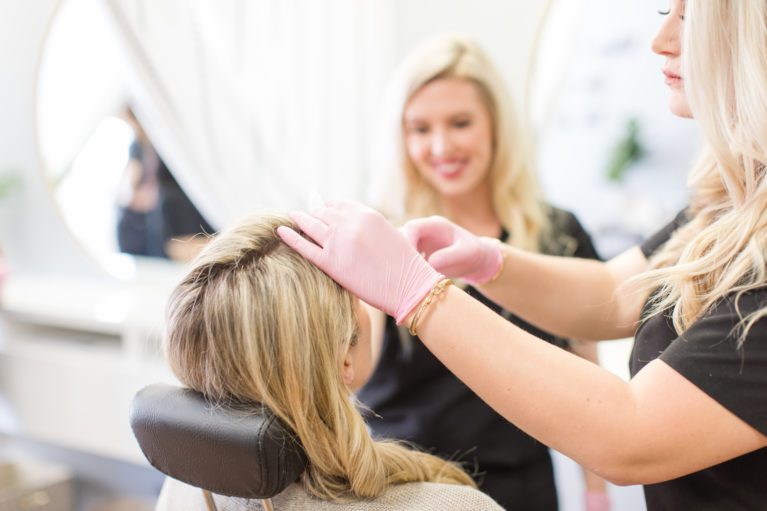 History of Dermal Fillers
Richmond, KY
Dermal fillers have come a long way since they first hit our shelves in the 1970s. While the earliest forms of this treatment focused on utilizing animal collagen to boost facial volume, the fillers we use today are much more sophisticated and safer. In most cases, practitioners around the globe now inject poly-L-lactic acid (PLLA) or hyaluronic acid into the skin. These substances help to boost collagen production and promote healthier and more flawless-looking skin.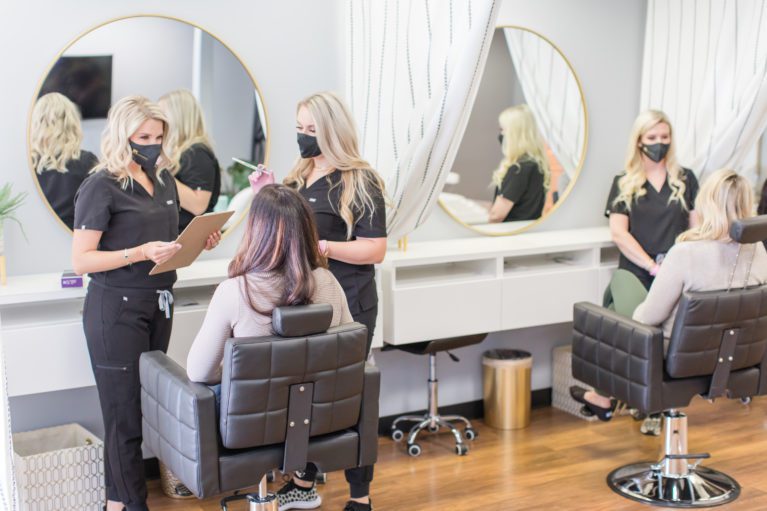 Dermal Filler Uses
Richmond, KY
Only a handful of cosmetic treatments are as versatile as dermal fillers. It barely matters if you are trying to eliminate wrinkles, enhance your lips, or roll back the clock, our fillers can help. This treatment is also suitable for people of various ages. From those in their early adulthood looking to be proactive and prevent any signs of ageing from creeping up to those in their 40s and 50s looking to smooth out wrinkles and fine lines, dermal fillers can help you achieve the look you desire.
Schedule a Dermal Filler Treatment Consultation
Contact us today to learn more about our dermal filler treatments at 4esthetics Lounge!
Types of Dermal Fillers
Hyaluronic acid (HA) is a powerful ingredient in dermal fillers that is popular for its remarkable ability to retain moisture. At 4esthetics Lounge, our practitioners inject this natural substance into targeted areas to help you achieve a more vibrant and confident look. The unique properties of HA also make it a popular choice for treating various issues, such as thin lips and fine lines.
Cheek Fillers
Cheek fillers are one of our most popular treatments at 4esthetics Lounge. This procedure allows us to sculpt your cheeks and enhance facial features by injecting fillers along the cheekbones and upper cheeks. With this treatment, you can expect a rejuvenated appearance after stepping out of our practice.
Nasolabial Fillers
At 4esthetics Lounge, we use nasolabial fillers to smooth out any wrinkles or fine lines that may have formed around the mouth area. At our KY practice, our practitioners target the lines running from the nose to the corners of the mouth, helping you gain a more revitalized and softer appearance. So, if you have been looking to regain that lustrous and youthful look, we suggest looking no further than this treatment.
Lip Fillers
It will always be challenging to discuss this treatment without mentioning lip fillers. This procedure helps to enhance and plump the lips by targeting the areas around the mouth. With this extra volume on your lips, you can expect a more flawless appearance that will help boost your confidence and enhance your natural beauty.
Chin Fillers
At 4esthetics Lounge, our chin fillers help to sculpt and enhance your chin's shape. If you opt for this treatment, you can expect one of our practitioners to apply this filler to various sites around your chin. This treatment should help add volume, definition, and symmetry to your face, allowing you to sport a more aesthetically pleasing look.
Under Eye Fillers
We use under eye fillers at our practice to help clients eliminate any bags or dark circles that may have formed around their eyes. During the treatment, our practitioners precisely target the tear trough area to give you a more refreshed appearance. So, you can always expect a brighter and fresher look after our under-eye filler treatment.
Full Face Fillers
This filler is the perfect treatment for those looking to enhance and rejuvenate their entire face. Depending on your specific goals, our practitioners may target the lips, under-eyes, cheeks, and chin with our filler injections. The core goal of this treatment is to provide total revitalization that delivers smooth skin, a glowing complexion, and a bright appearance.
What to Expect with Dermal Fillers in Richmond, KY
Treatments at our Richmond, KY, practice are quick, safe, and virtually painless. Depending on the treatment area, the procedure will take between 15-45 minutes, and our practitioners always use a fine needle to ensure minimal discomfort. So, although you may experience a mild amount of pressure, the procedure is relatively comfortable.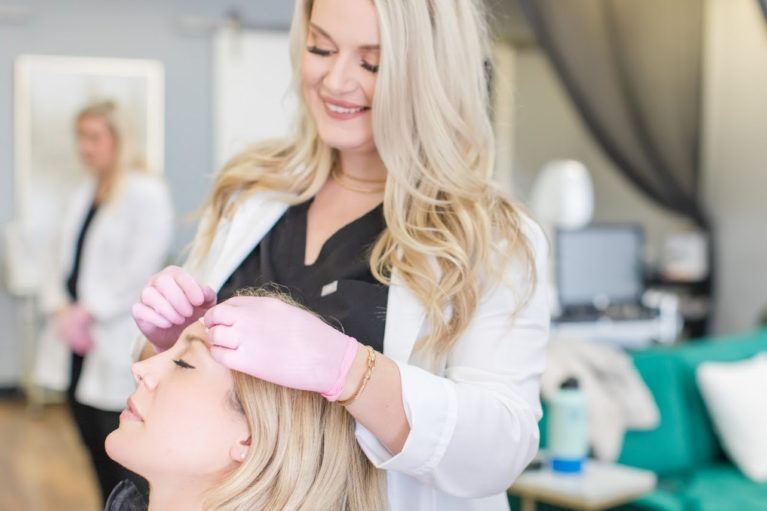 Dermal Fillers
Before the Appointment
At 4esthetics Lounge, we always go the extra mile to ensure that you are fully informed and comfortable before your treatment. So, during your free consultation, you will get the chance to discuss your goals and needs. If you believe dermal fillers are what you need, we will suggest avoiding alcohol and anti-inflammatory medication for up to 24 hours before your treatment. You may also want to hold off on any tanning appointments until after the filler has settled.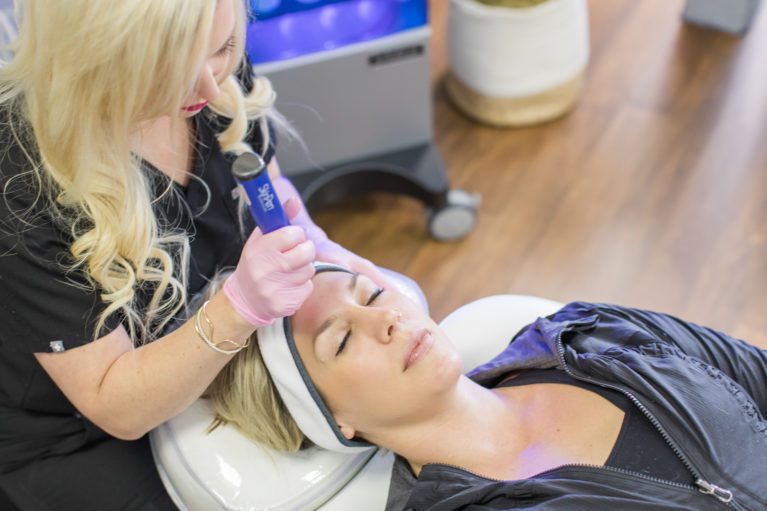 Dermal Fillers
During the Appointment
Once you are ready for your session, a practitioner will deliver a topical anesthetic to your skin. This pain-killer will help eliminate any chances of pain while we inject the filler into your skin. After applying it, you can also expect your practitioner to massage around the target area to help ensure that the substance spreads evenly.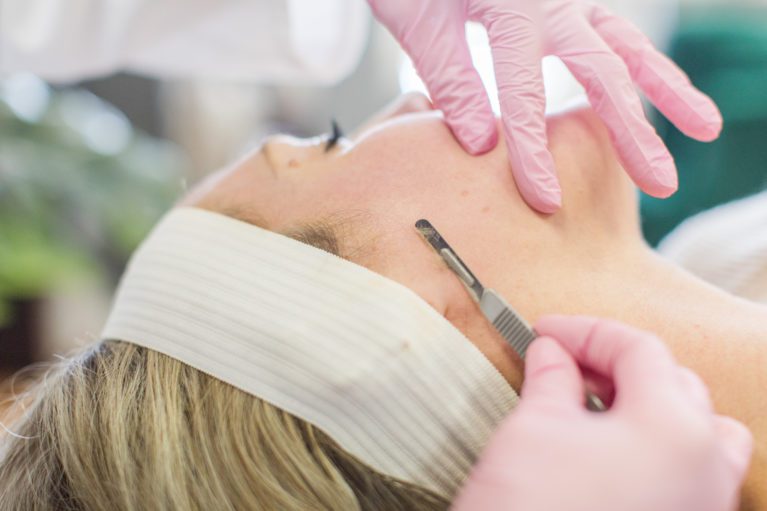 Dermal Fillers
After the Appointment
To ensure you get the most out of your treatment, we often suggest avoiding excessive heat, so you may have to ignore any thoughts of sunbathing for a little while. While you should also be wary of side effects, such as soreness and swelling, these are generally temporary and should quickly wear off. Depending on your skin and the treatment type you opted for, you may continue to see results for several months.
Dermal Filler Injections for Richmond, KY
There is no better place to be if you are trying to gain a more vibrant and pleasing look than at 4esthetics Lounge, Richmond. With our dermal filler treatments, we take things to the next level by allowing you to eliminate thin lips, fine lines, and wrinkles within 45 minutes, boosting your natural beauty and rewinding the clock as you gain a more youthful appearance. The results from dermal filler treatments are immediate, with further improvements over time as the filler settles. Our 4esthetics Lounge team uses data-driven treatments to deliver cutting-edge procedures that result in more confident clients. So, what is stopping you? Reach out about our dermal filler treatments today and take the first step towards healthier, softer, and more vibrant-looking skin.
Frequently Asked Questions
Dermal fillers create lift, add volume, and restore a youthful appearance to areas of the face that show signs of aging.
Restylane and Juvedermare made of a soft gel consisting of non-animal hyaluronic acid. Hyaluronic acid is a sugar molecule that naturally occurs in the human body, and it is found in our skin. It helps hydrate and adds volume to the skin. It is naturally broken down by our own bodies.
Aging causes a lose of volume in key areas of the face contributing to folds, wrinkles, hollow temples, thinning lips, sunken eyes, and an overall older appearance. Fillers can be used to restore volume loss, smooth out folds and wrinkles, and improve contours to achieve natural results without altering facial expression. Certain fillers can also be used to correct scars.
Dermal filler effects are long lasting but not permanent. Results last anywhere from 6 months to 2 years, depending on the patient's age, area treated, type of filler used, quantity of filler used, and lifestyle.
Most patients experience only mild discomfort. A local anesthetic cream can be applied to the skin prior to the treatment for a more comfortable experience.
In general, dermal fillers are considered very safe. The most common reactions are redness, swelling, bruising, itching, and tenderness and resolve on their own within 1-7 days.