Skin Tightening in Nicholasville, KY
4esthetics Lounge is an industry-leading treatment spa that sits near the beautiful region of Nicholasville, KY. Since starting our journey, we have helped various clients live a life free from wrinkles, fine lines, and other issues by offering several data-driven treatments, including skin tightening. Our clinic focuses on putting the safety of our clients above everything else, and all our treatments are administered by a caring team of certified nurse practitioners. So, you can always be confident that you are getting the best care possible with us at 4esthetics Lounge. If you have been interested in skin tightening or have any stubborn wrinkles, fine lines, stretch marks, or scars you want to remove, then feel free to drop an inquiry. 4esthetics Lounge is the best place to be for individuals who want to enhance their natural beauty but dislike the stuffy and surgical feel of a doctor's office. Instead, all our clients can easily kick back and relax in our cozy spa lounge environment as our dedicated team of experts helps them achieve their goals. So, why wait for anything? Inquire about our skin tightening treatments at 4esthetics Lounge today, or book a free consultation with us, to bring your dream skin to life.
Skin Tightening & Treatments
Schedule a free consultation with us today to learn more about how skin tightening treatments can help you feel and look younger.
Skin Tightening & RF Microneedling
As the years pass and the hands of time tick along, our skin tends to lose its natural firmness, resulting in wrinkles and sagging. However, with modern medicine on your side, this no longer has to be the case. Today, you can quickly turn back time and improve your appearance by using various skin-tightening techniques, such as RF Microneedling. This cutting-edge procedure combines microneedles and radiofrequency energy to help boost collagen production and add firmness to the skin. Unlike other traditional micro-needling techniques, this procedure does not create any injuries, allowing you to enjoy soft, firm, and radiant-looking skin without worrying about getting hurt.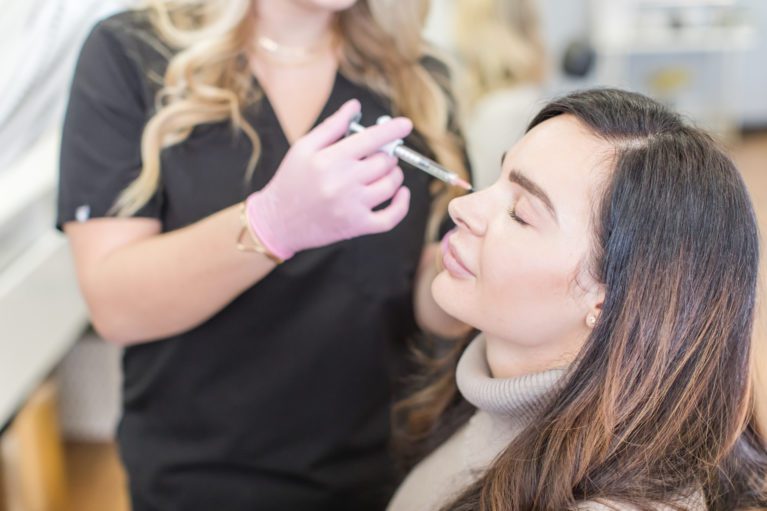 Smart RF Microneedling
Nicholasville, KY
Smart RF Microneedling is one of the latest innovations in the skin-tightening world. This procedure involves delivering sharp and accurate bursts of radiofrequency energy into the areas of the skin that you want to tighten. In addition to its high level of precision, this procedure is excellent at targeting deep layers of the skin, making it effective at boosting collagen production and improving firmness. While Smart RF Microneedling has various benefits, it is especially effective at reducing fine lines and wrinkles and promoting a more radiant complexion. So, if you have been struggling with any of these issues and are interested in skin tightening, we suggest reaching out about this procedure.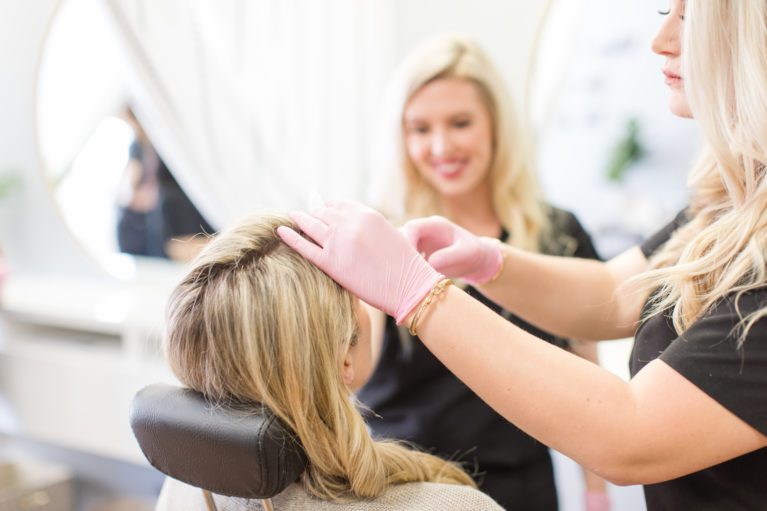 Deep RF Microneedling
Nicholasville, KY
Deep RF Microneedling is a one-of-a-kind technique that takes skin-tightening to the next level. This treatment focuses on using radiofrequency energy to target the subcutaneous fat layer, allowing practitioners to contour and tighten your skin from within. This unique ability for Deep RF Microneedling to work on some of the deepest layers of our skin makes it perfect for people that want to reduce the appearance of cellulite, stretch marks, and scars on their bodies. We also suggest looking into this procedure if you would like to achieve a more defined or sculpted look.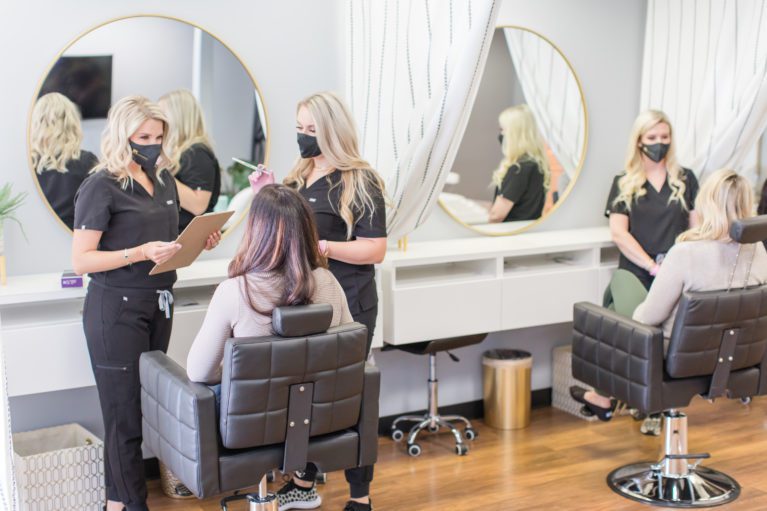 Exact RF Microneedling
Nicholasville, KY
While Smart RF Microneedling is tremendously precise, it may fall short when dealing with imperfections around sensitive areas. Fortunately, that's where Exact RF Microneedling comes in. This cutting-edge approach places precision above everything else when applying energy to the skin, making it perfect for treating wrinkles or fine lines around the forehead, mouth, or eyes. So, if you have been on the hunt for a safe but effective way to regain that youthful glow and reduce signs of aging, we suggest looking into our Exact RF Microneedling service at 4esthetics Lounge.
Schedule a Skin Tightening Consultation
Contact us today to learn more about our skin tightening treatments at 4esthetics Lounge
Skin Tightening Treatments at 4esthetics Lounge Nicholasville, KY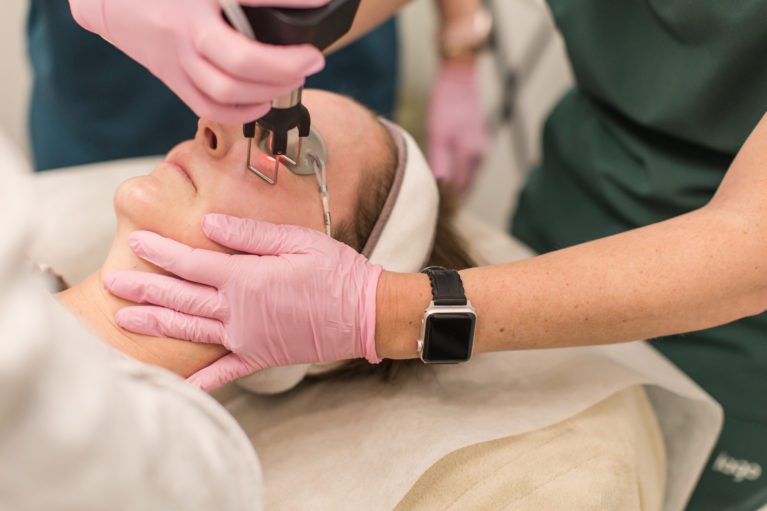 What to Expect with Skin Tightening
Nicholasville, KY
Our core belief at 4esthetics Lounge is that our skin only deserves the very best care. Since we opened our doors, we have helped countless clients boost their self-confidence and enhance their natural beauty with our skin tightening program. If you are interested in this service, we will begin the process with a free consultation. During this initial meeting, you will work with our team of certified nurse practitioners as they craft a treatment plan that matches all your needs and desires. This tailored plan will include the various areas of your skin we will target, and how many follow-up sessions you will need to achieve the best results. If you have never had a skin tightening procedure, there is also no need to fret. Before your first appointment, we will walk you through everything you need to know about skin tightening, including what will happen during your first session and the best way to prepare. At 4esthetics Lounge, we also understand that this treatment is only the first step towards achieving fresher and more radiant-looking skin. So, our doors will always be open for follow-up sessions and aftercare. You can also expect to receive industry-leading maintenance recommendations from us each year to help ensure that your skin continues to look fresh and smooth after your treatment.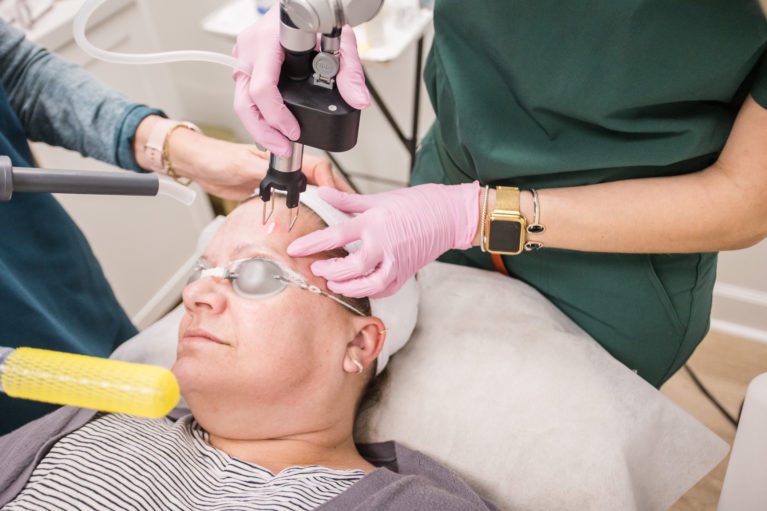 RF Microneedling & Skin Tightening Results
Nicholasville, KY
If you are ready to wave goodbye to wrinkles and sags around your skin, then there is no better procedure than RF Microneedling. This industry-leading technique works by directing radiofrequency energy into some of the deepest layers of the skin to help stimulate collagen production. Depending on the areas we target during your sessions, you may quickly notice a reduction in fine lines, wrinkles, and other issues, such as scarring, sun damage, and hyperpigmentation. One of the best parts about skin tightening is that you will begin to notice results after your first few sessions, which means there is no long and stressful wait with this procedure. As the weeks pass, your body will also keep up collagen production, so you can expect continuous improvements after your primary session. While RF Microneedling is a tremendously safe procedure, some people may notice side effects, such as swelling or redness after their session. Fortunately, this often wears out after a few hours, so you don't have to worry about long-term side effects with this procedure.
RF Microneedling & Skin Tightening with 4esthetics Lounge
Have you been searching for the best skin-tightening treatments to help reduce signs of aging and regain that youthful glow? If so, there is no better place to be than here at 4esthetics Lounge, KY.
At our Kentucky Clinic, your skin will always be our top priority. Starting from your first session, you can rest easy knowing that you will always be in the hands of one of our certified nurse practitioners. We also understand that everyone's skin is unique, which is why we ensure that we tailor all our skin tightening treatment plans according to your goals, desires, and needs.
So, what are you waiting for? Inquire about our free skin tightening consultation today and start your journey towards smoother, fresher, and more youthful skin.
Frequently Asked Questions
RF microneedling is a minimally invasive procedure that helps to reduce wrinkles, acne scars, and stretch marks. The treatment creates tiny micro-injuries in the skin, stimulating collagen production. It also delivers radiofrequency energy into the deeper layers of the skin, promoting tightening and rejuvenation.
Common side effects of skin tightening include mild redness or swelling, numbness, itching, or burning sensation. These generally subside within a few hours or days after the procedure. Other less common side effects may include skin texture and color changes, scarring, bruising, and sagging of the treated area.
The effects of skin tightening can last up to two years, depending on the type of treatment used and other factors such as lifestyle choices. Skin tightening treatments typically provide more long-lasting results than non-invasive procedures like radiofrequency or ultrasound therapy. However, it is essential to remember that these treatments do not stop the natural aging process, and regular maintenance is recommended to maintain the effects of skin tightening.
The effects of skin tightening treatments can be seen almost immediately, with the full results appearing within a few months after your final treatment. Depending on the extent of sagging or loose skin, you may need multiple treatments over time to achieve your desired outcome. During this post-treatment recovery period, you'll notice a gradual improvement in skin laxity and a more youthful, firmer-looking appearance. Your skin will also feel smoother, tighter, and better hydrated. Ultimately, you should be pleased with the results of your skin tightening treatments as they can help to reduce wrinkles and fine lines while enhancing your overall complexion.
When it comes to skin tightening treatments, there is no one-size-fits-all answer. Skin aging and laxity can occur at different rates depending on factors such as age, genetics, lifestyle habits, and skincare routine. As such, the ideal schedule for skin tightening treatments will vary from person to person. Generally, it is recommended to start with a series of treatments at 3-4 week intervals for optimal results.