Professional Facials in Nicholasville, KY
4esthetics Lounge, located near Nicholasville, KY, is not your typical med spa. This establishment stands out due to its unwavering commitment to offering personalized skincare treatment plans tailored to individual needs. With safety as their number one priority, clients can feel at ease knowing they're in capable hands. What sets 4esthetics Lounge further apart is their reliance on data-driven treatments, ensuring clients receive the most effective care based on sound evidence. All services are carried out by certified practitioners, guaranteeing expertise with every facial. In a luxurious spa lounge setting, customers can indulge in a range of facial services. Highlights from their menu include the honey enzyme facial, the invigorating fire & ice facial, and the clear acne facial, each competitively priced at $135 per session.
Professional Facials & Skincare Treatments
Schedule a free consultation with us today to learn more about how facials can help you feel and look younger. 
Facials at 4esthetics Lounge in Nicholasville, KY
Facials, a skincare treatment that has been embraced by many for centuries, involve a series of steps aimed at cleansing, nourishing, and rejuvenating the skin. People commonly opt for facials to address specific skin concerns, maintain a youthful appearance, and achieve a radiant complexion. The allure of facials lies not only in the promise of improved skin health but also in the relaxing experience, allowing individuals a moment of self-care and indulgence. Virtually anyone, regardless of age or skin type, can benefit from facials. They work by deep cleansing, exfoliating, and hydrating the skin, thereby promoting better skin health and often offering noticeable improvements in skin texture and tone.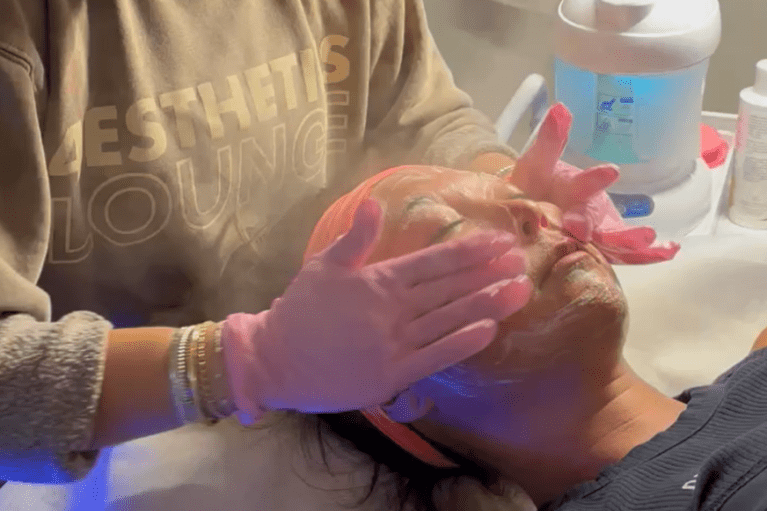 Honey Enzyme Facial
Nicholasville, KY
A honey enzyme facial is a unique skincare treatment that leverages the natural enzymes found in honey to exfoliate and rejuvenate the skin. This facial primarily aims to dissolve dead skin cells, improve skin texture, and impart a healthy, radiant glow. Due to its gentle nature, the honey enzyme facial is especially beneficial for those with sensitive or dry skin types. However, individuals seeking a mild exfoliation while harnessing the moisturizing and antibacterial properties of honey would also find this facial immensely beneficial.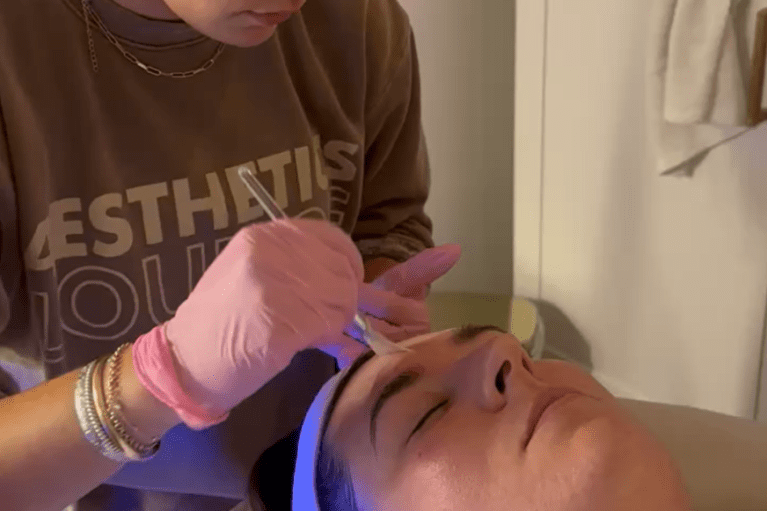 Fire & Ice Facial
Nicholasville, KY
A fire & ice facial, often termed the "red carpet facial", is a dynamic treatment that combines warming and cooling elements. The "fire" involves a resurfacing masque that warms the skin, promoting exfoliation and cellular renewal, while the "ice" includes a rejuvenating masque that cools, calms, and hydrates. This facial is designed to rapidly and safely resurface the skin, reduce fine lines, address problematic skin, and encourage cellular renewal. Those seeking instant brightening, tightening, and a youthful glow, especially before significant events, stand to benefit most from the fire & ice facial experience.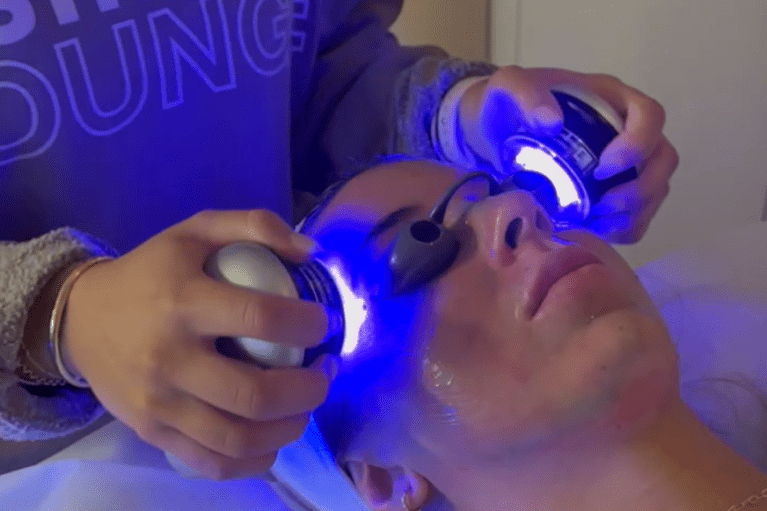 Clear Acne Facial
Nicholasville, KY
A clear acne facial is a specialized skincare treatment targeting the root causes of acne and its associated concerns. This facial is designed to deep cleanse the pores, exfoliate dead skin cells, and utilize treatments that combat acne-causing bacteria, reduce inflammation, and promote skin healing. The primary objective is to alleviate active breakouts, prevent future ones, and foster clearer, healthier skin. Individuals grappling with acne, whether sporadic or persistent, as well as those prone to breakouts and congestion, would greatly benefit from the therapeutic effects of the clear acne facial.
Schedule a Free Consultation
Contact us today to learn more about our rejuvenating facials at 4esthetics Lounge
Facial Treatments at 4esthetics Lounge Nicholasville, KY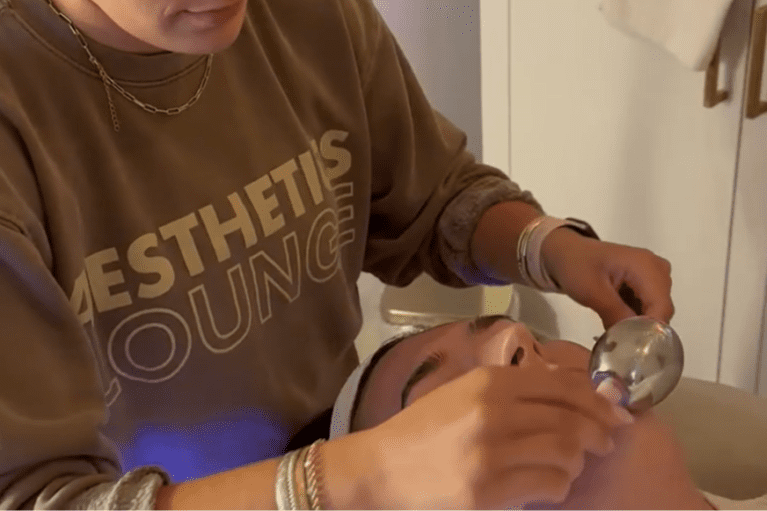 What to Expect with Facials at 4esthetics Lounge
Nicholasville, KY
At 4esthetics Lounge, the journey to radiant skin begins with a complimentary consultation, ensuring each client receives a treatment plan tailored to their unique skin care needs. Preparation for the first session is pivotal; clients are usually advised on specific skincare routines or products to avoid, ensuring optimal treatment results. During the initial appointment, a thorough skin analysis is conducted to understand the individual's concerns and desired outcomes, followed by the first treatment as per the personalized plan. While the number of sessions varies based on individual requirements, most clients typically benefit from multiple sessions spaced out over a specific period for best results. 4esthetics Lounge takes aftercare seriously, providing detailed guidance on how to maintain the benefits of the treatment and minimize any potential side effects. The spa emphasizes regular follow-ups to monitor progress and adjust treatment plans if necessary. For sustained skin health and beauty, regular maintenance sessions are often recommended, ensuring clients' skin remains at its best year-round.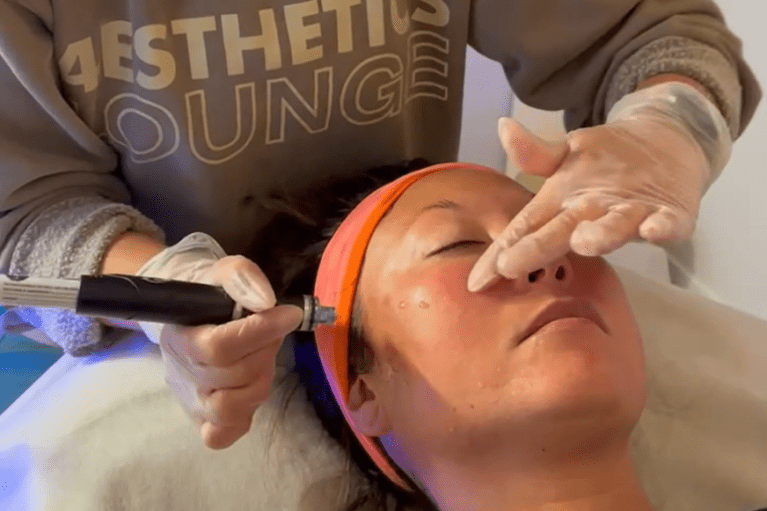 Results of Facials from 4esthetics Lounge
Nicholasville, KY
Facials work by deeply cleansing, exfoliating, and nourishing the skin, promoting better blood circulation and addressing specific skin concerns. Depending on the type of facial and individual skin conditions, some may see immediate results, while others might take a few days to notice enhanced clarity and glow. Immediately post-treatment, the face might appear slightly red or flushed due to the stimulation and exfoliation, but this typically subsides within a few hours. Side effects, though rare, can include temporary breakouts, especially if impurities are drawn to the skin's surface, or minor irritation, particularly for those with sensitive skin. Over time, with regular facials integrated into one's skincare routine, one can expect improved skin texture, reduced appearance of fine lines, and a consistent radiant complexion. The cumulative effect of facials can lead to healthier, more resilient skin that looks rejuvenated and youthful.
Schedule a Facial with 4esthetics Lounge
Choosing 4esthetics Lounge for your facials means entrusting your skin to unparalleled expertise. At the heart of our services lies a fusion where Innovation Meets Tradition, ensuring clients benefit from the latest skincare advancements while still harnessing time-tested methods. Our dedication to your skincare journey is unwavering, and importantly, our commitment doesn't conclude post-treatment. We remain your steadfast partners in achieving radiant skin, so reach out and let us be your chosen sanctuary for transformative facials.
Frequently Asked Questions
Medical facials are often administered by certified nurses or nurse practitioners, while a licensed esthetician performs honey enzyme or fire & ice facials. Facials involving chemical peels or hydrafacials can have a more significant impact to reduce signs of aging and other skin concerns. Honey enzyme facials and fire & ice facials are more focused on exfoliation and revitalizing complexion.
At home facials are a great way to supplement your skincare routine several times a week. They can be quick and convenient, depending on the treatment plan and products recommended by your esthetician. Professional med spa facials offer deeper cleansing and extraction with an emphasis on eliminating fine lines and creating a holistic health to your facial skin.
Your skincare needs are unique! The most effective treatment for you will depend on your skin type and problem areas that you'd like to address. Our honey enzyme facials and fire & ice facials are good for all skin types! Additional treatments, such as hydrafacials, chemical peels, and microneedling, should be discussed with your esthetician during your free consultation.
The best facial treatment for aging skin will depend on your skin type and regular skincare routine. Preventing aging skin is easier than reversing aging skin, so be sure to start your treatments early. This may mean anything from a deep cleanse to a chemical peel to toxins. Schedule a free consultation to discuss your personalized treatment plan with a certified professional.
Yes, anti-aging facials can help with fine lines and wrinkles. Facials for aging skin improve circulation by stimulating the lymphatic system, which helps to remove toxins from your body.
Yes! Facials can be very beneficial to rosacea because they remove dead skin cells, which helps reduce redness and inflammation in the face. Facials also help prevent acne breakouts, which is often a symptom of rosacea, by removing excess oils and bacteria from the skin.