4esthetics Lounge Dermal Fillers in Nicholasville, KY
4esthetics Lounge is a med spa serving Nicholasville, KY that offers personalized dermal filler treatment plans to help clients achieve their desired aesthetic goals. The safety of our clients is our number one priority, and all treatments are administered by certified nurse practitioners and providers. Our spa lounge environment allows clients to relax and feel comfortable during their treatment. We use a data-driven approach, and dermal fillers are a great way to restore volume loss and help clients achieve the youthful appearance they desire. Dermal fillers can be used to treat fine lines and wrinkles, volume loss around the lips and mouth, nasolabial folds (smile lines), marionette lines (the creases that extend from your nose to your mouth), and other facial imperfections.
Dermal Fillers & Cosmetic Injectables
Schedule a free consultation with us today to learn more about how dermal fillers can help you feel and look younger. Sign up for our Lounge Loyalty Program for 10% off all non-packaged dermal fillers, face fillers, and lip fillers.
About Dermal Fillers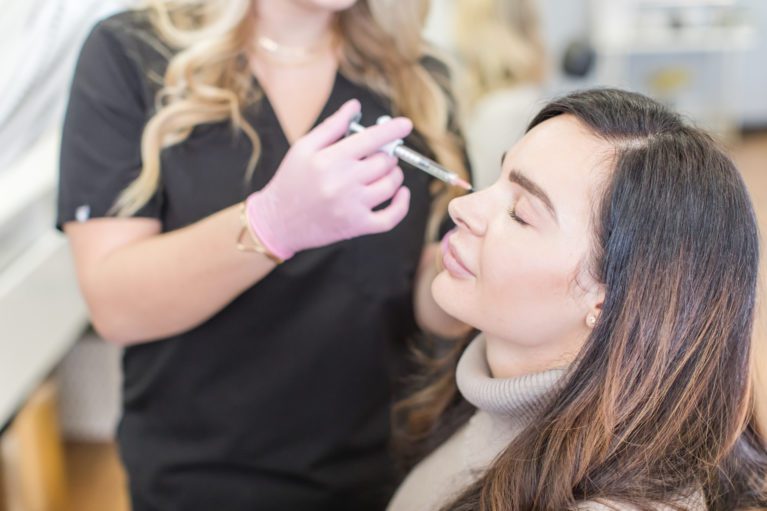 Dermal Fillers Popularity
Nicholasville, KY
One of the main reasons why people like dermal fillers is that they provide immediate results with minimal downtime. Dermal fillers are safe and effective for most people, although it is always important to consult with a qualified provider before undergoing any type of cosmetic treatment. Most people only need one or two treatments to restore lost volume in their lips or cheeks, but some patients may require additional procedures to achieve optimal results.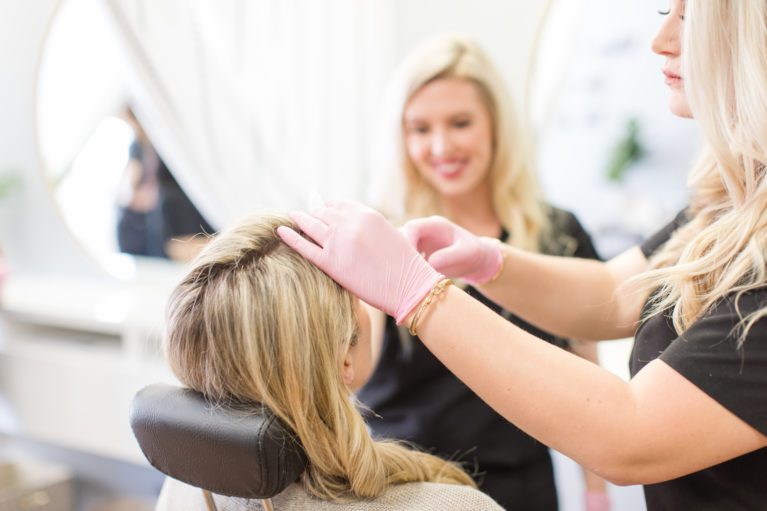 History of Dermal Fillers
Nicholasville, KY
Dermal fillers have been used for decades to enhance and rejuvenate the appearance of the skin. They are injectable substances made of hyaluronic acid (a substance found naturally in the human body) that are used to fill in wrinkles and folds, plump up the lips, and restore volume to the cheeks and other areas of the face. When you visit our office to learn more about dermal fillers, we will perform a consultation to determine the best treatment for you.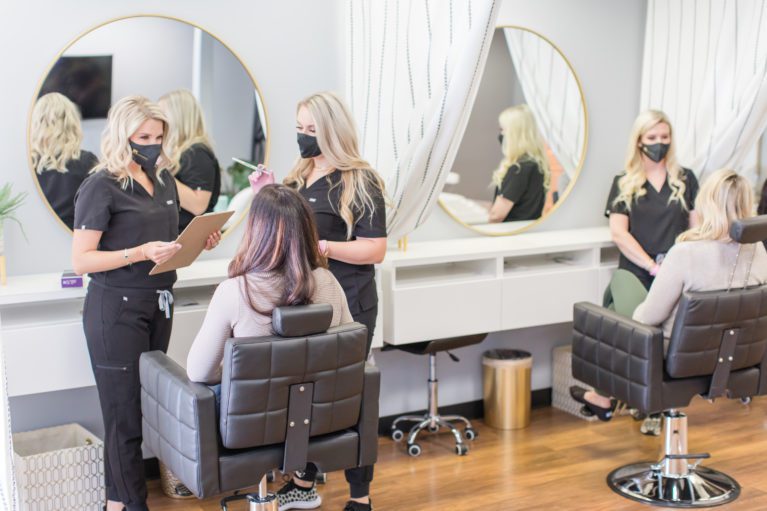 Dermal Filler Uses
Nicholasville, KY
Dermal fillers work by entering the skin and filling in the gaps between collagen fibers. There are several different types of dermal fillers available, but they all work in much the same manner. One of the most common uses for fillers is restoring volume to thin lips and plumping up sagging cheeks. These procedures can be performed at our practice in just one visit and provide immediate results with minimal downtime. The body breaks down the fillers over time, which means that they don't have to be removed.
Schedule a Dermal Filler Treatment Consultation
Contact us today to learn more about our dermal filler treatments at 4esthetics Lounge!
Types of Dermal Fillers
At 4esthetics Lounge, we offer a variety of dermal filler options to help clients achieve their desired results. The most common type of dermal filler is hyaluronic acid. Hyaluronic acid is a naturally occurring substance that is found in the human body, where it helps to lubricate joints, tendons, and ligaments. When injected into the skin, hyaluronic acid can provide temporary but immediate results. Some of the most popular treatments include:
Cheek Fillers
Hyaluronic acid fillers can be used to restore volume and lift cheeks, as well as reduce the appearance of nasolabial folds (laugh lines) and tear trough hollowness (under eyes) (Restylane Lyft, Juvederm Voluma)
Nasolabial Fillers
Hyaluronic acid filler is used to soften the appearance of nasolabial folds and lines around the mouth. (Restylane Refyne and Restylane Defyne)
Lip Fillers
Hyaluronic acid can be injected into the lips to give them a fuller, more youthful appearance. (Restylane-L, Juvederm Ultra, and Restylane Kysse)
Chin Fillers
Hyaluronic acid fillers can be used to augment the chin, providing a more defined shape and creating balance in facial features. (Restylane Defyne, Restylane Lyft, Juvederm Voluma)
Under Eye Fillers
Hyaluronic acid filler can be used to diminish under eye hollows, making the eyes appear more alert and relaxed. (Restylane-L and Juvederm Volbella)
Full Face Fillers
For clients looking for a more comprehensive treatment, we offer full face filler using a combination of different dermal fillers to address multiple areas of the face. This treatment is customized based on the client's needs and the provider's assessment.
What to Expect with Dermal Fillers in Nicholasville, KY
The procedure takes about 15-45 minutes to complete, depending on what areas of the face are being treated. The patient will feel mild pressure during the injection but no pain.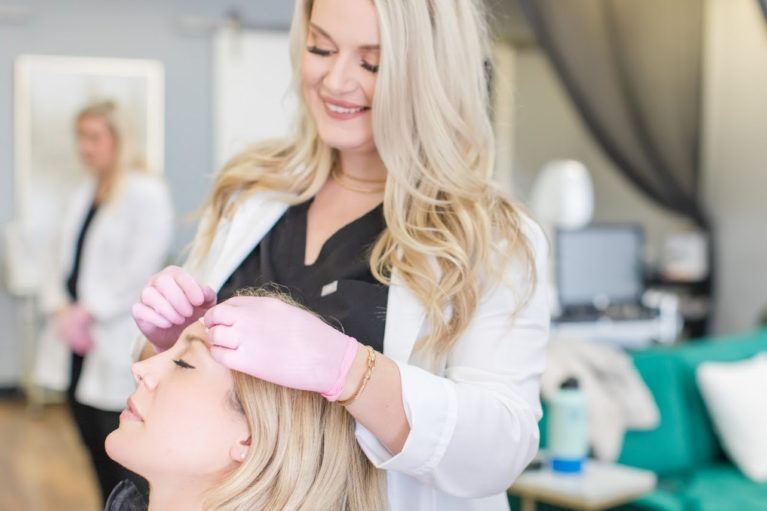 Dermal Fillers
Before the Appointment
Before your dermal filler appointment, it is important to avoid alcohol and any medications that can thin the blood, such as aspirin and ibuprofen. This will help to minimize the risk of bruising and other side effects. It is also a good idea to avoid wearing makeup to your appointment, as this can interfere with the treatment.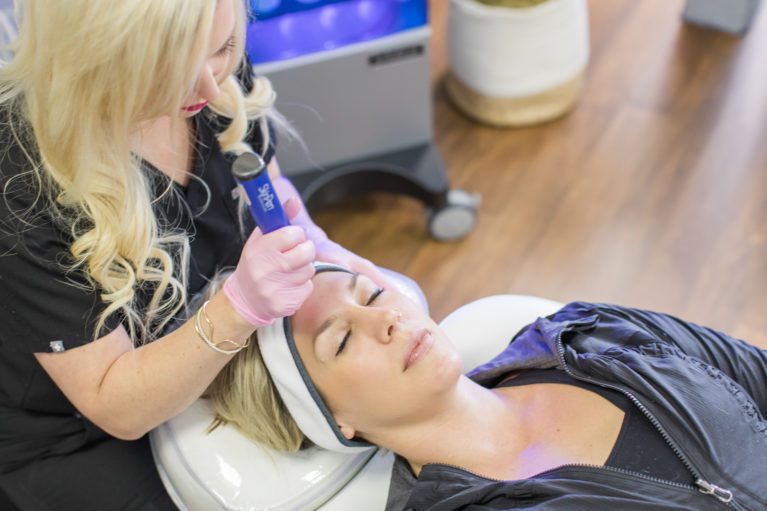 Dermal Fillers
During the Appointment
During the appointment, your provider will first clean your skin and apply a numbing cream if needed. Then, using a fine needle, the filler will be carefully injected into the treatment area. The procedure typically takes about 30 minutes to an hour, depending on the number of areas being treated.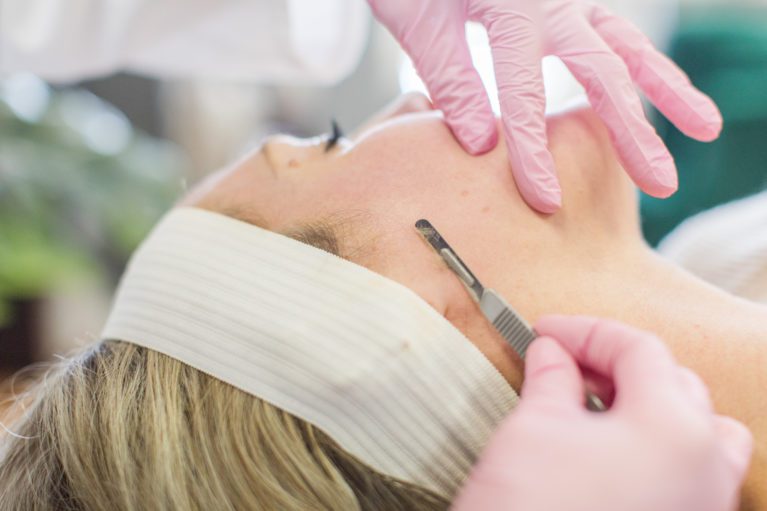 Dermal Fillers
After the Appointment
After the treatment, you may experience some redness, swelling, and bruising at the injection site. These side effects are usually quite mild and often resolve within a few days. Your provider will provide you with aftercare instructions, including how to care for the treated area and how long to wait before resuming your usual skincare routine.
Dermal Filler Injections for Nicholasville, KY
At 4esthetics Lounge in Nicholasville, KY, we are committed to providing our clients with the best possible results from their dermal filler treatments. Our personalized treatment plans and data-driven approach ensure that clients receive the most effective and safe treatments available. Over time, clients can expect to see a more youthful and rejuvenated appearance as a result of their dermal filler treatments.
Frequently Asked Questions
Dermal fillers create lift, add volume, and restore a youthful appearance to areas of the face that show signs of aging.
Restylane and Juvedermare made of a soft gel consisting of non-animal hyaluronic acid. Hyaluronic acid is a sugar molecule that naturally occurs in the human body, and it is found in our skin. It helps hydrate and adds volume to the skin. It is naturally broken down by our own bodies.
Aging causes a lose of volume in key areas of the face contributing to folds, wrinkles, hollow temples, thinning lips, sunken eyes, and an overall older appearance. Fillers can be used to restore volume loss, smooth out folds and wrinkles, and improve contours to achieve natural results without altering facial expression. Certain fillers can also be used to correct scars.
Dermal filler effects are long lasting but not permanent. Results last anywhere from 6 months to 2 years, depending on the patient's age, area treated, type of filler used, quantity of filler used, and lifestyle.
Most patients experience only mild discomfort. A local anesthetic cream can be applied to the skin prior to the treatment for a more comfortable experience.
In general, dermal fillers are considered very safe. The most common reactions are redness, swelling, bruising, itching, and tenderness and resolve on their own within 1-7 days.