Skin Tightening in Lexington, KY
Because our skin is the largest organ in our bodies, we should all strive to maintain a youthful, glowing appearance. However, as we age, the skin may naturally lose its elasticity, form fine lines, and reveal some signs of damage. If you want to fight these changes and strive to reverse the signs of aging, try RF microneedling. This popular treatment delivers impressive results while eliminating the need for invasive surgery or prolonged downtime. 4esthetics Lounge is a med spa in Lexington, KY, focusing on creating a more comfortable environment for its clients during each self-care treatment. Our team comprises certified nurse practitioners and providers who administer all skin tightening & RF microneedling treatments to ensure safety. We also apply advanced evidence-based techniques to deliver data-driven results. Upon consultation, we'll create a personalized treatment plan to enhance your skin's appeal.
Skin Tightening & Treatments
Schedule a free consultation with us today to learn more about how skin tightening treatments can help you feel and look younger.
Skin Tightening & RF Microneedling
Skin tightening treatments stimulate and restore elastin and collagen production deep within your dermis to lift and tighten the skin while diminishing fine lines and wrinkles. RF Microneedling is an innovative treatment that combines microneedling with radiofrequency (RF) energy to amplify the advantages of traditional microneedling. RF microneedling involves using a handheld device with special "energized" needles to create micro punctures throughout the skin's surface, allowing the energy produced to penetrate lower skin levels. Adding RF energy promotes the skin's supply of skin-improving enzymes and proteins, bringing about faster results and more impact than conventional microneedling. The heating of lower skin layers also further promotes skin tightening since it boosts lower collagen levels that rise to the surface.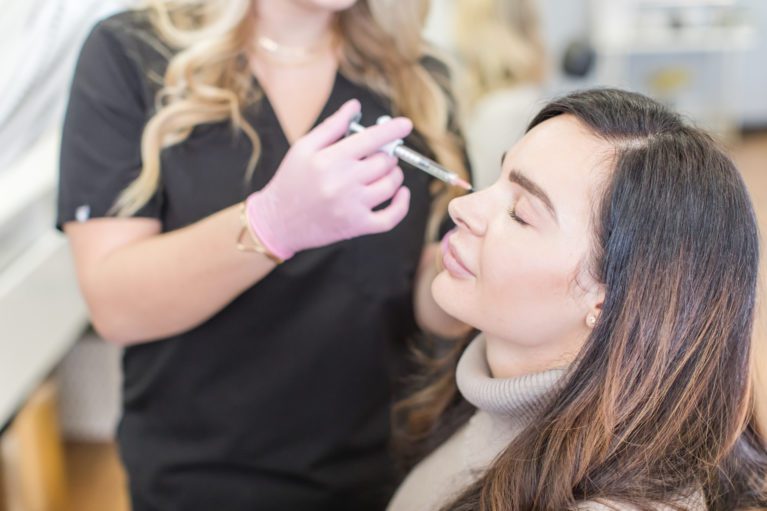 Smart RF Microneedling
Lexington, KY
It's a skin tightening treatment that implements a Robotic Precision Delivery to allow a fully controlled treatment. The Smart RF technology comprises 36 needles with more evenly distributed pressure than a single needle. The procedure also enables improved comfort without affecting the results. This minimally-invasive treatment can help tighten skin, brighten skin, lift skin, reduce redness, diminish facial lines & wrinkles, reduce acne breakouts, and repair sun damage.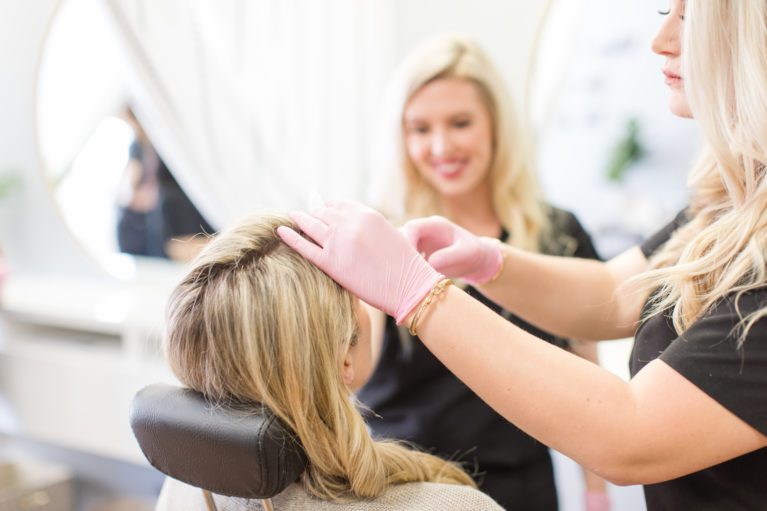 Deep RF Microneedling
Lexington, KY
Deep RF skin tightening is one of the most effective non-invasive treatments; it requires no downtime and guarantees safe and lasting results. Deep RF uses a cooling plate and 36 tiny needles for enhanced skin tightening effects. During your treatment, your cosmetic surgeon uses a specialized device to target your skin's deeper layers. The procedure boosts collagen production, leading to smoother and firmer skin that looks younger. The treatment lifts sagging skin, diminishes fine lines and wrinkles, restores a more even skin tone, and reduces age spots.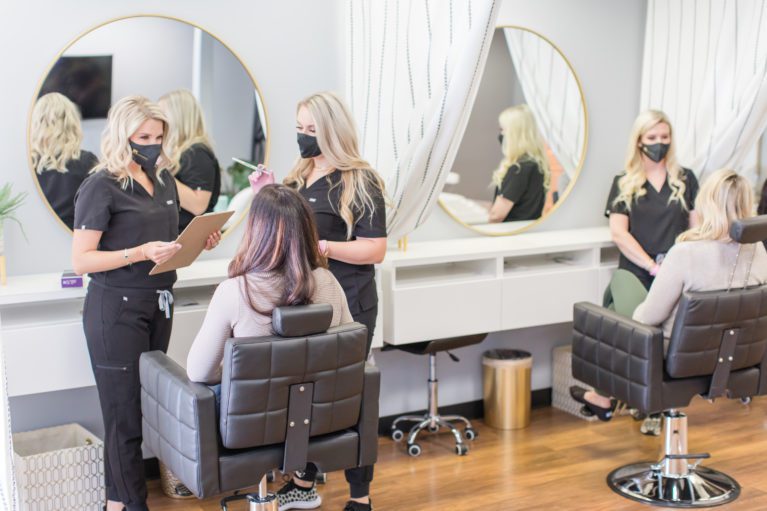 Exact RF Microneedling
Lexington, KY
Exact RF skin tightening is a non-invasive procedure that uses fractional radio frequency (RF) technology to deliver wrinkle reduction and skin tightening benefits with virtually no downtime. The treatment utilizes only one needle to precisely and safely target vulnerable facial spots, such as the mouth and eyes. The skin tightening procedure will make you look younger by enhancing collagen production and decreasing wrinkles. This advanced technology provides three different intensities to personalize the treatment to your specific needs and desired outcome. Exact RF also helps to minimize skin laxity with a tightening and lifting effect.
Schedule a Skin Tightening Consultation
Contact us today to learn more about our skin tightening treatments at 4esthetics Lounge
Skin Tightening Treatments at 4esthetics Lounge Lexington, KY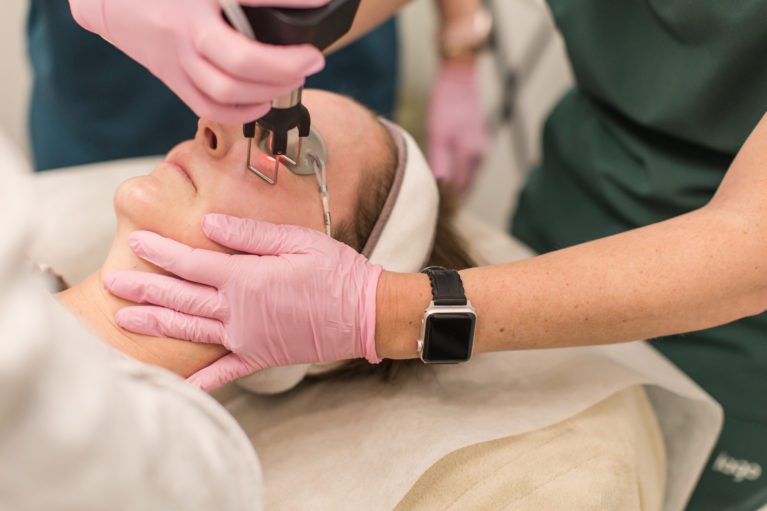 What to Expect with Skin Tightening
Lexington, KY
Our experienced team at 4esthetics Lounge offers a free consultation to discuss your needs and determine whether skin tightening is your ideal choice. Before your treatments, you should avoid applying topical skincare products that might enhance the risk of difficulties during or after your session. During your consultation, our skin experts will evaluate your skin's condition and create a personalized treatment plan to meet your needs. They'll also decide which areas to target and recommend how many sessions you should take to achieve your goals. This procedure minimizes wrinkles, minor scars, age spots, and other aging signs. After only one session, you'll see an improvement in your skin's tone and elasticity. Generally, it would be best to begin several treatments at 3–4 week intervals for maximum results. At 4esthetics Lounge, we recommend you get follow-up treatments every several months during your first year.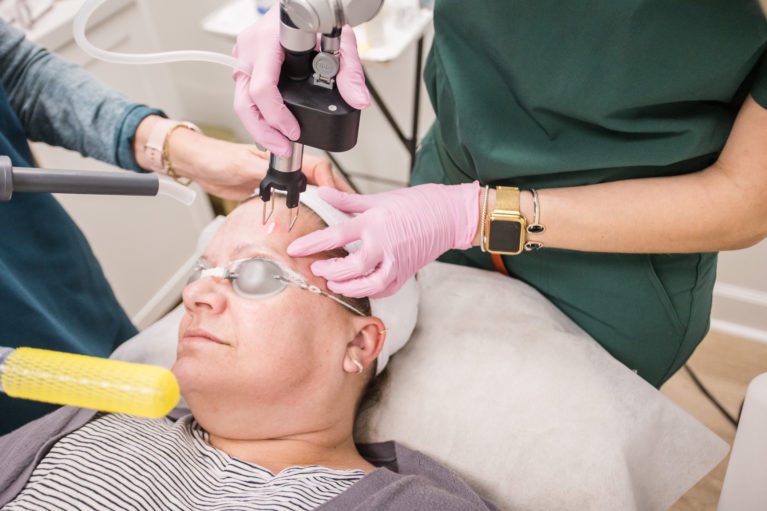 RF Microneedling & Skin Tightening Results
Lexington, KY
RF Microneedling utilizes gold-plated needles that softly penetrate the skin to administer radiofrequency (RF) energy deep into the dermal layers. This RF energy heats at depths that allow cumulative and ongoing advantages for collagen production, skin tightening, and resurfacing. Since RF Microneedling combines two minimally invasive treatments, it can help eliminate deep lines & wrinkles, tighten loose skin, and improve skin tone. Although the treated area might appear red for a few hours after treatment, it's unlikely to be sensitive or painful. You'll notice results after 3–6 months, but the exact time frame depends on the type and seriousness of your condition. Most people need a minimum of four sessions, which they'll do every 3–8 weeks. After the initial series of treatments, you should expect your results to last about one year. We recommend having a touch-up session annually to maintain your desired results.
RF Microneedling & Skin Tightening with 4esthetics Lounge
Our clinic offers the most advanced skin treatments to help our clients achieve great results. We stay up-to-date with the best treatment plans, implementing market-leading and evidence-based approaches. Our clients undergo an assessment before getting treatment to determine the most suitable products and services. Book a free consultation with us today, and our determined practitioners will develop a customized skin-tightening treatment plan. 4esthetics Lounge treats thousands of people annually with various treatments to help them firm and lift their skin with longer-lasting results.
Frequently Asked Questions
RF microneedling is a minimally invasive procedure that helps to reduce wrinkles, acne scars, and stretch marks. The treatment creates tiny micro-injuries in the skin, stimulating collagen production. It also delivers radiofrequency energy into the deeper layers of the skin, promoting tightening and rejuvenation.
Common side effects of skin tightening include mild redness or swelling, numbness, itching, or burning sensation. These generally subside within a few hours or days after the procedure. Other less common side effects may include skin texture and color changes, scarring, bruising, and sagging of the treated area.
The effects of skin tightening can last up to two years, depending on the type of treatment used and other factors such as lifestyle choices. Skin tightening treatments typically provide more long-lasting results than non-invasive procedures like radiofrequency or ultrasound therapy. However, it is essential to remember that these treatments do not stop the natural aging process, and regular maintenance is recommended to maintain the effects of skin tightening.
The effects of skin tightening treatments can be seen almost immediately, with the full results appearing within a few months after your final treatment. Depending on the extent of sagging or loose skin, you may need multiple treatments over time to achieve your desired outcome. During this post-treatment recovery period, you'll notice a gradual improvement in skin laxity and a more youthful, firmer-looking appearance. Your skin will also feel smoother, tighter, and better hydrated. Ultimately, you should be pleased with the results of your skin tightening treatments as they can help to reduce wrinkles and fine lines while enhancing your overall complexion.
When it comes to skin tightening treatments, there is no one-size-fits-all answer. Skin aging and laxity can occur at different rates depending on factors such as age, genetics, lifestyle habits, and skincare routine. As such, the ideal schedule for skin tightening treatments will vary from person to person. Generally, it is recommended to start with a series of treatments at 3-4 week intervals for optimal results.