4esthetics Lounge Dermal Fillers in Lexington, KY
Dermal fillers in Lexington, KY are currently available at 4esthetics Lounge, a med spa providing personalized treatment plans for its clients. Safety is the number one priority, and all treatments are administered by nurse practitioners and certified providers in a peaceful, spa-like environment. At 4esthetics Lounge, a variety of dermal fillers are available to suit the needs of each patient. Some of the options include chin fillers, cheek fillers, nasolabial fillers, lip fillers, under eye fillers, and full-face fillers. With a commitment to data-driven treatments and personalized care, 4esthetics Lounge provides patients with natural-looking results that can improve their confidence and self-esteem.
Dermal Fillers & Cosmetic Injectables
Schedule a free consultation with us today to learn more about how dermal fillers can help you feel and look younger. 
About Dermal Fillers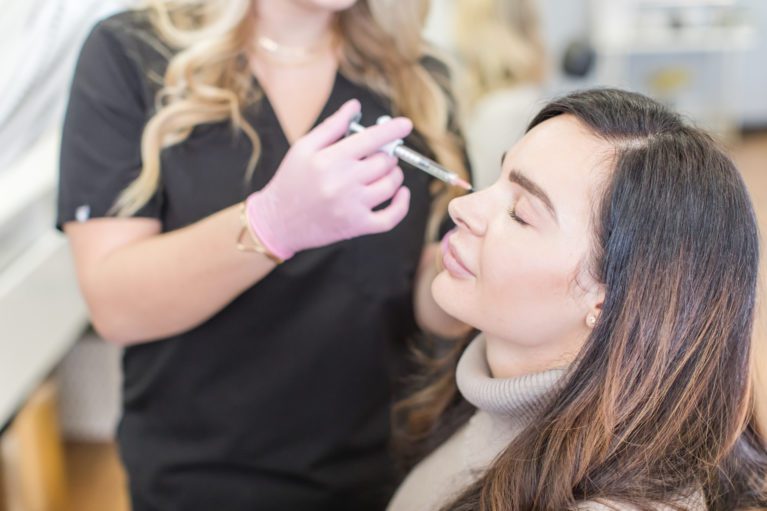 Dermal Fillers Popularity
Lexington, KY
Why do people love fillers so much? Because they are extremely effective, take very little time to administer, and involve minimal risk of complications. Dermal fillers are made from a non-toxic, biocompatible material that is FDA approved for use in humans. The filler material is injected into the skin using tiny needles that painlessly penetrate the surface layers without causing any damage to healthy tissue.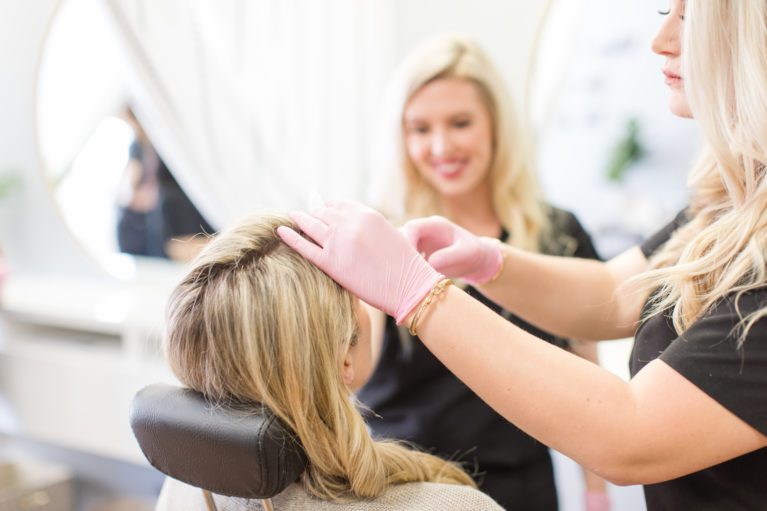 History of Dermal Fillers
Lexington, KY
Dermal fillers, also known as injectable implants, have been used for cosmetic purposes since the 1960s. They are made of a variety of substances like hyaluronic acid, calcium hydroxylapatite, and poly-L-lactic acid, which are injected into the skin to restore volume and smooth wrinkles. The most common uses for dermal fillers are to plump up thin lips, improve shallow contours, soften facial furrows, and improve the appearance of recessed imperfections.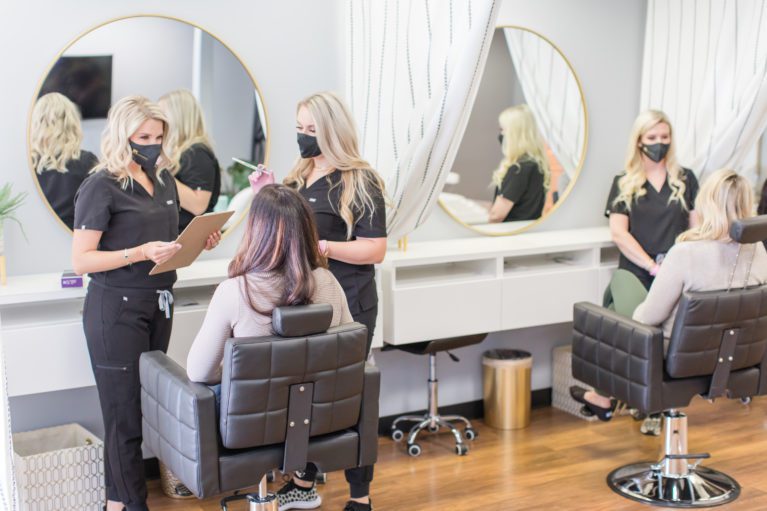 Dermal Filler Uses
Lexington, KY
People choose dermal fillers for a variety of reasons. Some people want to reverse the signs of aging and restore a more youthful appearance. Others want to improve the symmetry of their face or enhance their natural features. Almost anyone can benefit from fillers, which can be used on people of all ages and skin tones, and the results are immediate and long-lasting.
Schedule a Dermal Filler Treatment Consultation
Contact us today to learn more about our dermal filler treatments at 4esthetics Lounge!
Types of Dermal Fillers
Dermal fillers come in a variety of types to address specific areas and concerns.
Cheek Fillers
Use to restore mid-face volume that is often lost due to aging. This treatment lifts and contours the cheeks, reducing the appearance of nasolabial folds (laugh lines) and tear trough hollowness (dark circles under the eyes). Hyaluronic acid fillers such as Restylane Lyft and Juvederm Voluma are commonly used for this purpose.
Nasolabial Fillers
Use to restore a youthful appearance to the lower face by softening the appearance of laugh lines and lines around the mouth (marionette lines). These fillers are typically made of hyaluronic acid and can be injected using products such as Restylane Refyne or Restylane Defyne.
Lip Fillers
A popular treatment for those looking to add subtle volume to their lips. This treatment uses hyaluronic acid fillers to hydrate and plump the lips, making them appear more youthful. Results with lip glossing are not as full or plump as with lip plumping, which is a treatment that creates fuller, more contoured lips.
Chin Fillers
Uses hyaluronic acid to augment the chin and provide shape and definition to the face, resulting in a more well-balanced profile. This treatment can be performed using products such as Restylane Defyne, Restylane Lyft, or Juvederm Voluma.
Under Eye Fillers
Hyaluronic acid plumps and smoothes the delicate skin around the eyes, making them look more vibrant. This treatment is often performed using products such as Restylane-L or Juvederm Volbella.
Full Face Fillers
Customized treatment protocol that uses hyaluronic acid to restore volume and smooth wrinkles across the entire face. This treatment is tailored to each individual's needs and is performed using a combination of the various types of fillers mentioned above.
What to Expect with Dermal Fillers in Lexington, KY
The procedure takes about 15-45 minutes to complete, depending on what areas of the face are being treated. The patient will feel mild pressure during the injection but no pain.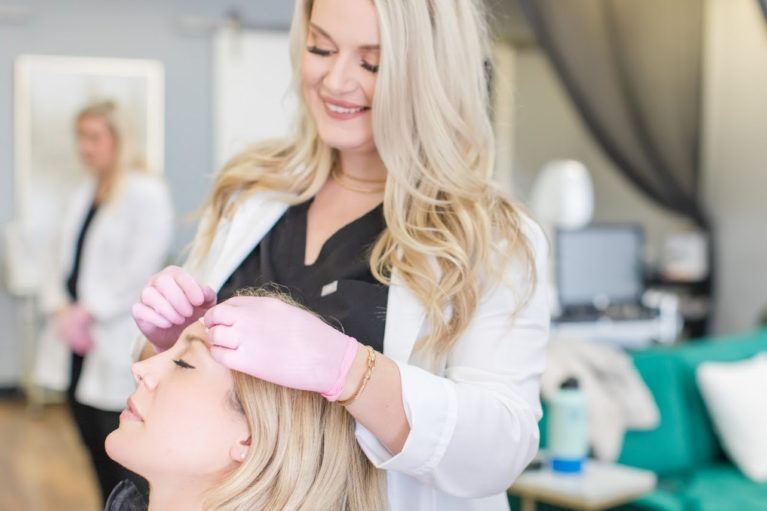 Dermal Fillers
Before the Appointment
Before a dermal filler appointment, patients are advised to avoid alcohol, blood thinners, and non-steroidal anti-inflammatory drugs. Patients should also refrain from exercise or strenuous activity for at least 24 hours before the appointment. The doctor will first cleanse and sterilize the skin before injecting the filler material into the desired areas.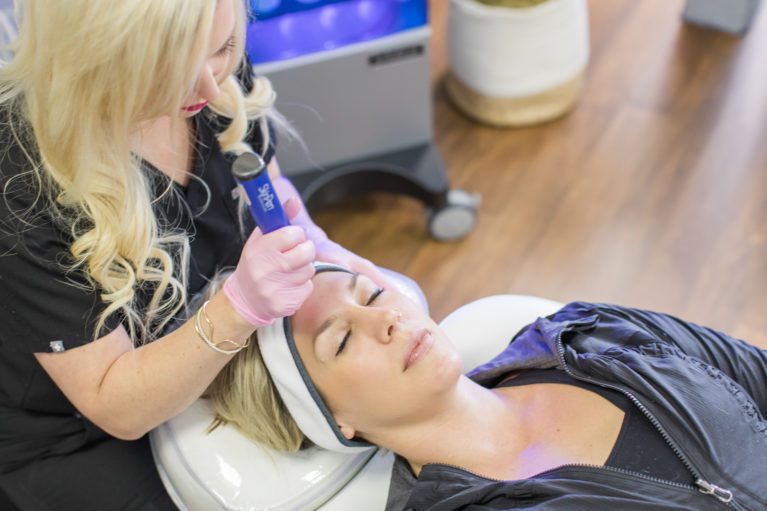 Dermal Fillers
During the Appointment
During the appointment, the provider will numb target areas with a topical anesthetic. The filler is then injected into the skin using a fine needle. The procedure can take anywhere from 10 minutes to an hour, depending on the area being treated. The doctor will then massage and smooth the filler into place before covering the area with bandages.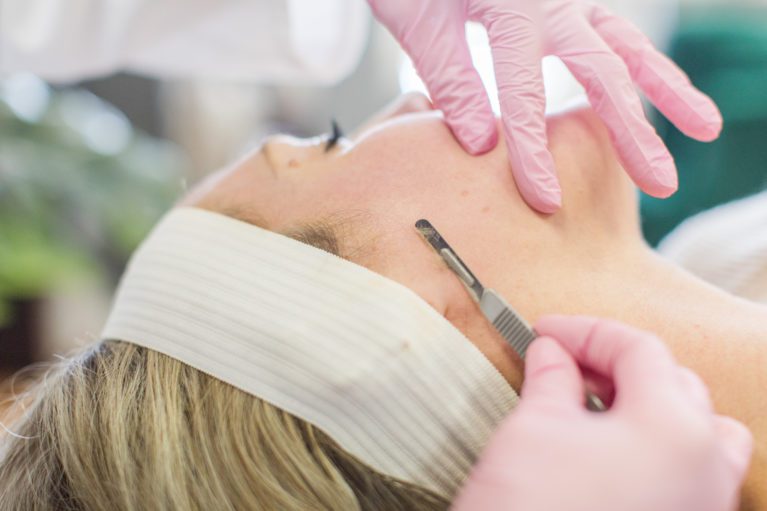 Dermal Fillers
After the Appointment
After the appointment, patients may experience some swelling, redness, and bruising, but these effects usually subside within a few days. The results of dermal filler treatment can last anywhere from six months to two years, depending on the type of filler used.
Dermal Filler Injections for Lexington, KY
4esthetics Lounge in Lexington, KY offers a range of dermal filler treatments to help clients achieve their aesthetic goals. With a focus on safety and personalized care, clients can expect natural-looking results that can last for several months to years.4esthetics uses data-driven treatments to ensure the best possible outcome for each patient. If you are considering dermal fillers, be sure to consult with a qualified provider to determine the best treatment plan for your needs. If you are interested in learning more about dermal fillers and other services offered by 4esthetics Lounge, contact our office today. We would be happy to schedule a no-pressure consultation with one of our expert providers to discuss your aesthetic dreams.
Frequently Asked Questions
Dermal fillers create lift, add volume, and restore a youthful appearance to areas of the face that show signs of aging.
Restylane and Juvedermare made of a soft gel consisting of non-animal hyaluronic acid. Hyaluronic acid is a sugar molecule that naturally occurs in the human body, and it is found in our skin. It helps hydrate and adds volume to the skin. It is naturally broken down by our own bodies.
Aging causes a lose of volume in key areas of the face contributing to folds, wrinkles, hollow temples, thinning lips, sunken eyes, and an overall older appearance. Fillers can be used to restore volume loss, smooth out folds and wrinkles, and improve contours to achieve natural results without altering facial expression. Certain fillers can also be used to correct scars.
Dermal filler effects are long lasting but not permanent. Results last anywhere from 6 months to 2 years, depending on the patient's age, area treated, type of filler used, quantity of filler used, and lifestyle.
Most patients experience only mild discomfort. A local anesthetic cream can be applied to the skin prior to the treatment for a more comfortable experience.
In general, dermal fillers are considered very safe. The most common reactions are redness, swelling, bruising, itching, and tenderness and resolve on their own within 1-7 days.