4esthetics Lounge Dermal Fillers in Lawrenceburg, KY
Nobody should ever have to break a sweat about their skin, regardless of where they are. It should not matter if you are out on a date or giving a presentation at the office, wrinkles or acne should always be the last thing on your mind. This need to help our clients achieve a life where beauty is not a worry is why we continue to provide cutting-edge dermal fillers to Lawrenceburg, KY. This treatment is data-driven, and only our team of committed nurses and certified providers help administer our fillers, ensuring that you remain safe at all times. So, don't let anything stop you from achieving that vibrant look. Come and unwind in our spa-lounge environment today as we take you on a journey toward your dream skin.
Dermal Fillers & Cosmetic Injectables
Schedule a free consultation with us today to learn more about how dermal fillers can help you feel and look younger. 
About Dermal Fillers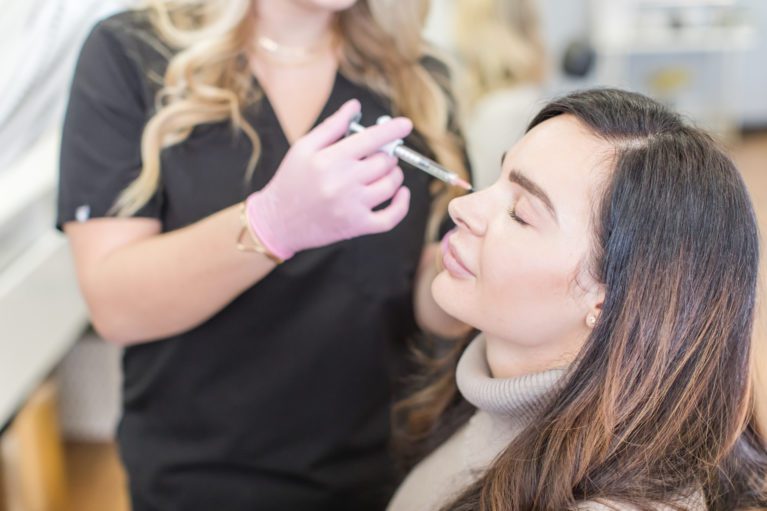 Dermal Fillers Popularity
Lawrenceburg, KY
It will always be safe to say that dermal fillers have captivated the beauty industry in the last few years, and for good reason. This non-invasive treatment has remained one of the most successful ways to boost skin volume, iron out wrinkles and bring life to the lips. With dermal fillers on your side, you no longer have to fret about losing that sparking look of your youth. Instead, you can remain confident that your skin will continue to look refreshed and energized.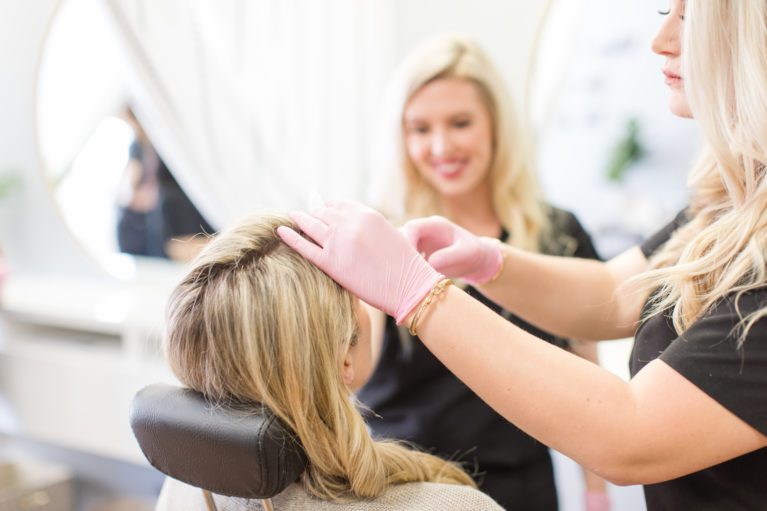 History of Dermal Fillers
Lawrenceburg, KY
While it often feels impossible today to imagine a world without dermal fillers, this procedure has only been around since the 1970s. Back then, nurses used animal collagen from cows to help enhance skin volume and give their clients a fresher look. Fast-forwarding to the present, the fillers we use today are far more sophisticated and advanced, generally relying on poly-L-lactic acid or hyaluronic acid to reawaken that youthful vibrancy in the skin.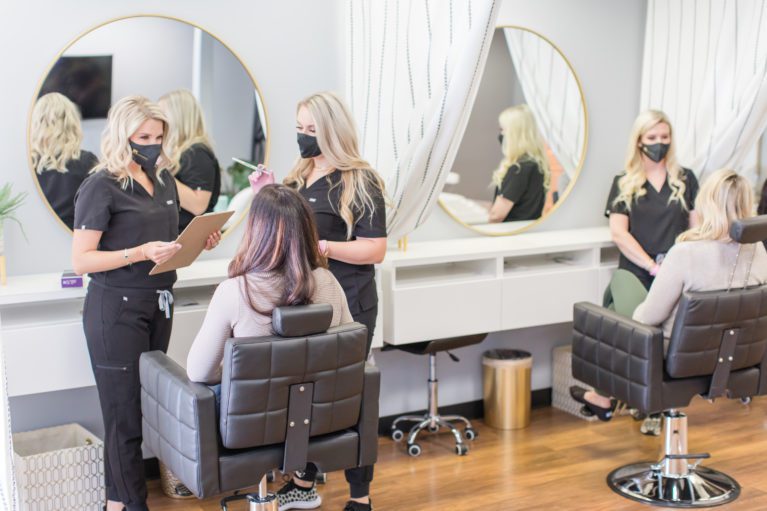 Dermal Filler Uses
Lawrenceburg, KY
One of the most amazing things about dermal fillers is that it casts a wide net when it comes to issues they can treat. It does not matter if you are tired of thin lips, battling wrinkles, or have fine lines that refuse to disappear, our fillers are just what you need. This versatile treatment also offers a solution for various ages. Those in their 30s and 40s are welcome to use this procedure to combat signs of aging by addressing wrinkles and fine lines. Meanwhile, younger individuals can enhance their natural features to achieve a more alluring and attractive look. In any case, the sky will always be the limit with dermal fillers at your side.
Schedule a Dermal Filler Treatment Consultation
Contact us today to learn more about our dermal filler treatments at 4esthetics Lounge!
Types of Dermal Fillers
Hyaluronic acid (HA) is one of the most potent dermal filler ingredients. This is hardly a surprise as this naturally occurring substance has an outstanding ability to retain moisture. HA fillers are also tremendously versatile, and practitioners at our Lawrenceburg Clinic use them to treat various issues, including thin lips, fine lines, and wrinkles. Please do not hesitate to leave an inquiry about our HA fillers to take the first step toward your dream skin.
Cheek Fillers
This technique is one of the most effective ways to enhance the appearance of the cheeks by making them look more youthful and plump. At our Lawrenceburg Clinic, our nurse practitioners will inject your fillers along the cheek area. With your dermal fillers in place, you should notice that your cheeks will look slightly lifted, giving you a more attractive appearance.
Nasolabial Fillers
We use nasolabial fillers to iron out any wrinkles that may have developed along the line that runs from the nose to the mouth. If you choose to have this procedure, one of our nurse practitioners will inject our fillers across this line to help add volume around the area. After completing your treatment, you should notice fewer wrinkles along that line, making you appear much younger.
Lip Fillers
It is not an understatement to say that lip fillers have become synonymous with dermal fillers in recent years, as this is one of the most popular treatments people receive today. During this procedure, our nurses will work to apply the injection around the mouth area to help amplify the volume of your lips. Your rounder lips should help boost your self-confidence and make you appear more attractive to those around you.
Chin Fillers
We will always suggest looking no further than our chin filler treatments if you have been hunting for a more defined facial look. During this procedure, one of our experienced nurse practitioners will apply a filler into the chin area to make it look more sculpted and symmetrical, gifting you a stunning appearance. Don't be surprised if you win an extra compliment or two after completing our chin filler treatment.
Under Eye Fillers
This technique is perfect for people with permanent bags or dark circles swirling underneath their eyes. To help eliminate these issues, our practitioners inject fillers into the trough area of your eye, using the extra volume to make your eyes appear more refreshed. So, you can be confident in a brighter and less tired look after receiving an under-eye filler treatment from 4esthetics Lounge.
Full Face Fillers
Nobody understands that targeting one area is often never enough better than we do here at 4esthetics Lounge. So, if you are interested in total facial rejuvenation, we invite you to partake in our full face-filler treatment. During this procedure, one of our practitioners will target the eyes, lips, chin, and cheeks, depending on your needs to help you feel more attractive and refreshed.
What to Expect with Dermal Fillers in Lawrenceburg, KY
There are no better words to describe our dermal filler experience at 4esthetics Lounge, than quick, comfortable, and safe. Once you are ready to receive your filler, one of our highly-trained practitioners will inject a fine needle into the target area. Although you may feel a slight pinch, dermal filler treatments are relatively painless, so there is nothing to fear. If you feel some discomfort, you will also be happy to know that the procedures are tremendously quick and usually last between 15 and 45 minutes. So it will be over in the blink of an eye.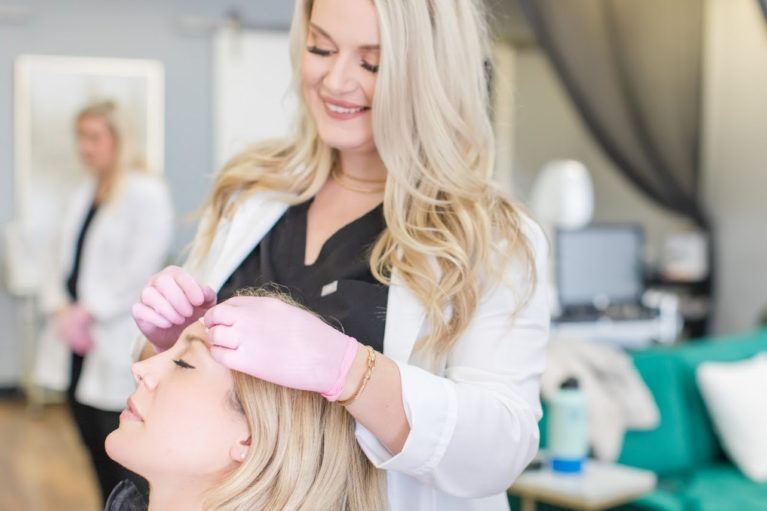 Dermal Fillers
Before the Appointment
One of the core things that makes 4esthetics Lounge stand out is that we are always ready to move according to your pace. That is why we continue to offer free consultations to all our clients before they receive any treatment from us. If you decide that dermal fillers are what you need, you will have to stop taking any blood-thinning medication and cease alcohol intake before the procedure to ensure the best results.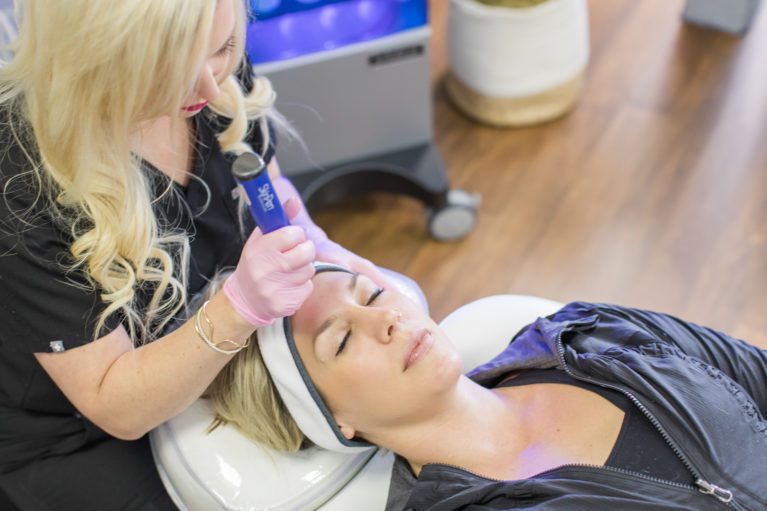 Dermal Fillers
During the Appointment
Each dermal filler treatment session begins with one of our nurse practitioners applying a topical anesthetic to your skin. This numbing agent will help ensure that you feel no pain while we inject the filler into the target area. To wrap up the session, your practitioner may massage the skin to help ensure that the filler evenly spreads.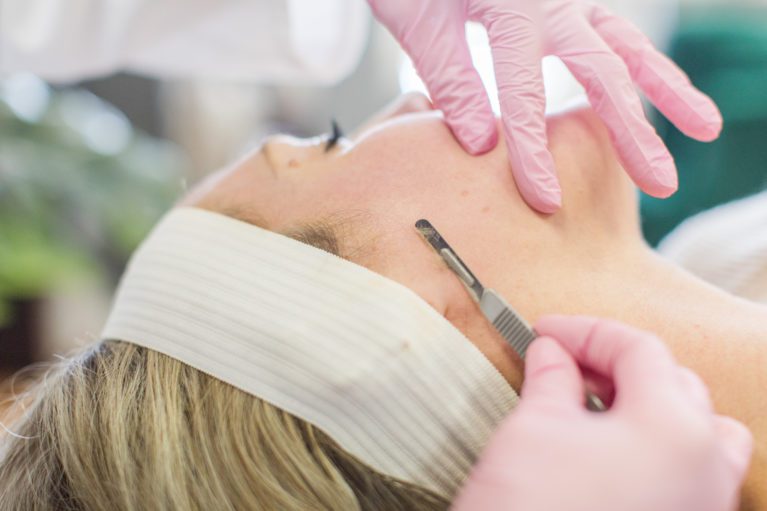 Dermal Fillers
After the Appointment
What you do after receiving your filler is critical to the overall success of the procedure. So, we suggest staying from any excess heat from the sun or tanning beds after your session. You may also experience some side effects, such as soreness or swelling, but these are generally temporary and will wear off over time.
Dermal Filler Injections for Lawrenceburg, KY
Have you been hunting for a quick and comfortable treatment to help remove facial imperfections while gifting you lustrous skin? If so, we suggest trying our dermal filler treatments here in Lawrenceburg, KY. This procedure is tremendously effective, and you can always expect to see constant improvements over time as the skin settles. We center all dermal filler treatments around data and only use the most cutting-edge procedures when applying your fillers. Do not let anything stand in your way. Reach out about our dermal filler injections in Lawrenceburg and begin a life of amplified beauty.
Frequently Asked Questions
Dermal fillers create lift, add volume, and restore a youthful appearance to areas of the face that show signs of aging.
Restylane and Juvedermare made of a soft gel consisting of non-animal hyaluronic acid. Hyaluronic acid is a sugar molecule that naturally occurs in the human body, and it is found in our skin. It helps hydrate and adds volume to the skin. It is naturally broken down by our own bodies.
Aging causes a lose of volume in key areas of the face contributing to folds, wrinkles, hollow temples, thinning lips, sunken eyes, and an overall older appearance. Fillers can be used to restore volume loss, smooth out folds and wrinkles, and improve contours to achieve natural results without altering facial expression. Certain fillers can also be used to correct scars.
Dermal filler effects are long lasting but not permanent. Results last anywhere from 6 months to 2 years, depending on the patient's age, area treated, type of filler used, quantity of filler used, and lifestyle.
Most patients experience only mild discomfort. A local anesthetic cream can be applied to the skin prior to the treatment for a more comfortable experience.
In general, dermal fillers are considered very safe. The most common reactions are redness, swelling, bruising, itching, and tenderness and resolve on their own within 1-7 days.