Professional Facials in Frankfort, KY
4esthetics Lounge, serving Frankfort, KY, is a medspa sanctuary dedicated to personalized skin care. Every client's unique skin care needs are catered to with a personalized treatment plan, emphasizing the importance of an individualized approach. Uncompromising in its commitment to safety, 4esthetics Lounge relies on data-driven treatments, ensuring that each service is effective and secure. Within this spa lounge's tranquil environment, all treatments are expertly administered by certified practitioners, guaranteeing top-tier professionalism with every visit. A standout feature is their exquisite facial menu, with highlights such as the hydrating honey enzyme facial, the invigorating fire & ice facial, and the clarifying clear acne facial. All facial treatments are priced at an accessible $135 per session, making luxury skincare attainable for all.
Professional Facials & Skincare Treatments
Schedule a free consultation with us today to learn more about how facials can help you feel and look younger. 
Facials at 4esthetics Lounge in Frankfort, KY
Facials have been a part of human beauty rituals for centuries, tracing back to ancient civilizations who prized clear, radiant complexions. Typically sought after to cleanse, exfoliate, and nourish the skin, facials address various concerns ranging from acne and dehydration to premature aging. Their enduring popularity stems from the visible results and the deep relaxation and rejuvenation they offer during the process. Virtually anyone, regardless of age or skin type, can benefit from facials, as they work by removing impurities, promoting circulation, and infusing the skin with potent nutrients, leaving it refreshed and revitalized.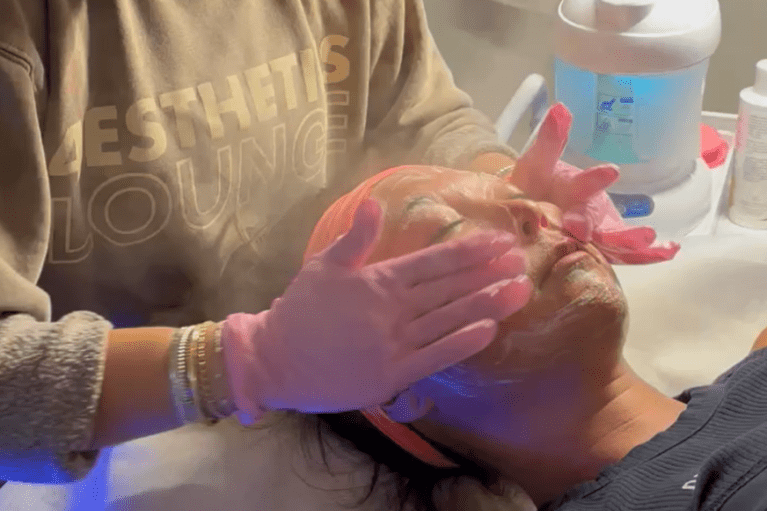 Honey Enzyme Facial
Frankfort, KY
A honey enzyme facial is a specialized skincare treatment that leverages the natural enzymes present in honey to exfoliate and rejuvenate the skin. This facial is primarily used to gently remove dead skin cells, reduce inflammation, and enhance overall skin radiance. Its natural antibacterial properties also make it effective in treating and preventing acne. Ideal for individuals seeking a gentle yet effective facial experience, those with sensitive skin, acne-prone complexions, or anyone looking to achieve a healthy, luminous glow would particularly benefit from the honey enzyme facial.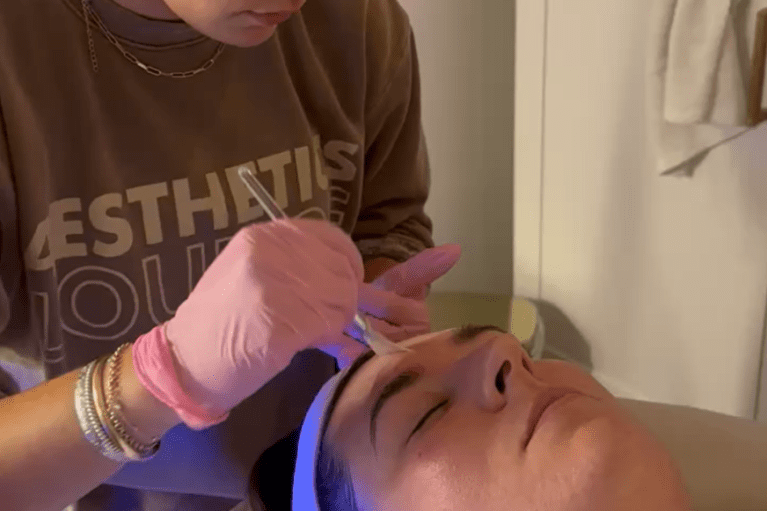 Fire & Ice Facial
Frankfort, KY
The fire & ice facial, often called the "red carpet facial," is a dual treatment that alternates between warm and cool sensations to rejuvenate the skin. The "fire" phase typically employs a mildly exfoliating mask, often with ingredients like glycolic acid or enzymes, to warm, tingle, and invigorate the skin, while the "ice" phase soothes and tightens with cooling masks and serums. This facial is designed to rapidly and safely resurface the skin, diminishing fine lines, reducing pores, and promoting a smooth, youthful appearance. Individuals seeking immediate, glowing results, such as before a special event, or those aiming to enhance skin texture and tone would greatly benefit from the fire & ice facial.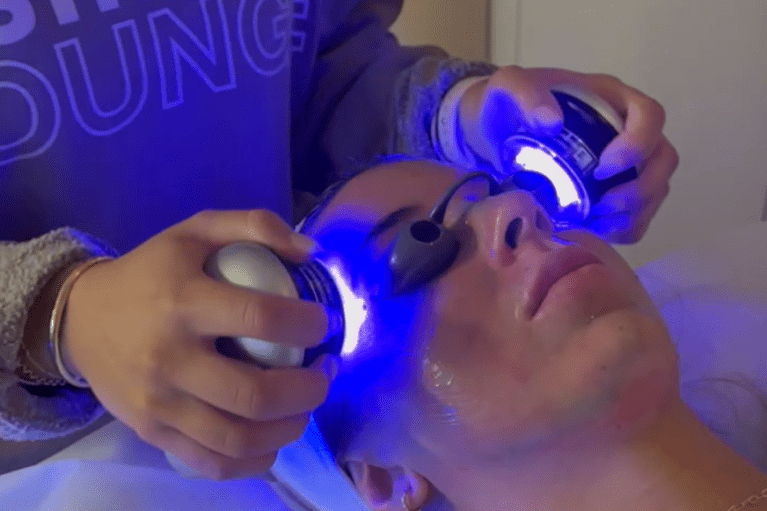 Clear Acne Facial
Frankfort, KY
A clear acne facial is a targeted skincare treatment formulated specifically to address the challenges of acne-prone skin. This type of facial typically incorporates deep cleansing, exfoliation, and extractions to unclog pores, paired with soothing and anti-inflammatory treatments to reduce redness and swelling. Additionally, specialized products containing ingredients like salicylic acid, benzoyl peroxide, or tea tree oil may be applied to combat acne-causing bacteria and regulate sebum production. Those struggling with breakouts, congestion, or the ongoing challenges of acne would find the clear acne facial particularly beneficial in their journey to clearer, healthier skin.
Schedule a Free Consultation
Contact us today to learn more about our rejuvenating facials at 4esthetics Lounge
Facial Treatments at 4esthetics Lounge Frankfort, KY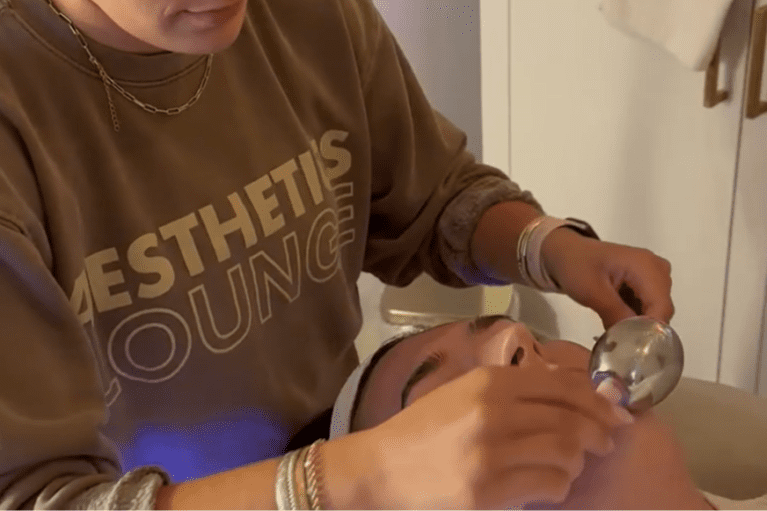 What to Expect with Facials at 4esthetics Lounge
Frankfort, KY
At 4esthetics Lounge, your journey to radiant skin begins with a complimentary consultation, tailored to understand and address your individual skincare needs. Recognizing that each client's skin is unique, personalized treatment plans are crafted to ensure the best possible results. Before your first session, it's advisable to keep your skin clean and free from heavy makeup or products, allowing for a more effective treatment. During the initial appointment, a thorough skin analysis is performed, and the proposed treatments are discussed to ensure comfort and clarity. While the number of recommended sessions varies based on individual goals and skin conditions, many clients see optimal results with regular treatments, often scheduled monthly or bimonthly. 4esthetics Lounge stands out with its comprehensive approach to follow-up and aftercare, ensuring clients are satisfied post-treatment and providing guidance on maintaining skin health. For sustained results, annual maintenance treatments are recommended, ensuring your skin remains at its peak condition year-round.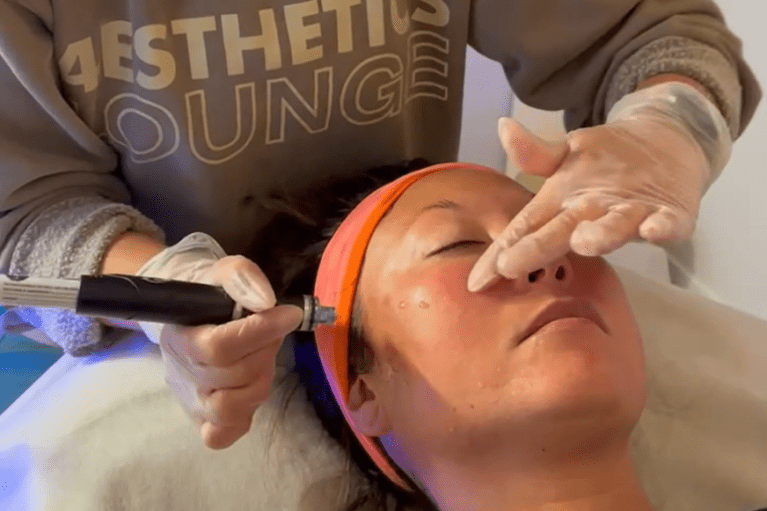 Results of Facials from 4esthetics Lounge
Frankfort, KY
Facials are a cornerstone in the realm of skincare, designed to cleanse, exfoliate, and nourish, thereby enhancing the skin's health and appearance. Upon receiving a facial, immediate effects can be both felt and seen, often manifesting as a refreshed, plumper, and more hydrated complexion. However, directly post-treatment, one might notice slight redness or sensitivity, akin to a mild sunburn, which is a common and transient side effect. Within a few hours to a couple of days, these immediate aftereffects typically subside, revealing a clearer and more radiant visage. While many experience a visible glow and smoother texture shortly after treatment, the cumulative benefits of facials become more pronounced over time, especially when integrated into a regular skincare regimen. With consistent facials, one can expect a reduction in fine lines, more even skin tone, reduced breakouts, and a sustainably healthier complexion. Adopting facials as a staple in your routine ensures that your skin is not only treated periodically but also maintains its optimal health and vitality in the long run.
Schedule a Facial with 4esthetics Lounge
At 4esthetics Lounge, you're not just receiving a facial; you're indulging in a luxurious skincare experience curated with precision and care. Our dedication to personalized treatment plans, combined with our expertly trained practitioners, ensures that each client leaves with a radiant glow and heightened skin health. Whether you're seeking routine rejuvenation or tackling specific skin challenges, 4esthetics Lounge stands as the premier destination for transformative results. Book your appointment today and elevate your skincare journey to unparalleled heights.
Frequently Asked Questions
Medical facials are often administered by certified nurses or nurse practitioners, while a licensed esthetician performs honey enzyme or fire & ice facials. Facials involving chemical peels or hydrafacials can have a more significant impact to reduce signs of aging and other skin concerns. Honey enzyme facials and fire & ice facials are more focused on exfoliation and revitalizing complexion.
At home facials are a great way to supplement your skincare routine several times a week. They can be quick and convenient, depending on the treatment plan and products recommended by your esthetician. Professional med spa facials offer deeper cleansing and extraction with an emphasis on eliminating fine lines and creating a holistic health to your facial skin.
Your skincare needs are unique! The most effective treatment for you will depend on your skin type and problem areas that you'd like to address. Our honey enzyme facials and fire & ice facials are good for all skin types! Additional treatments, such as hydrafacials, chemical peels, and microneedling, should be discussed with your esthetician during your free consultation.
The best facial treatment for aging skin will depend on your skin type and regular skincare routine. Preventing aging skin is easier than reversing aging skin, so be sure to start your treatments early. This may mean anything from a deep cleanse to a chemical peel to toxins. Schedule a free consultation to discuss your personalized treatment plan with a certified professional.
Yes, anti-aging facials can help with fine lines and wrinkles. Facials for aging skin improve circulation by stimulating the lymphatic system, which helps to remove toxins from your body.
Yes! Facials can be very beneficial to rosacea because they remove dead skin cells, which helps reduce redness and inflammation in the face. Facials also help prevent acne breakouts, which is often a symptom of rosacea, by removing excess oils and bacteria from the skin.