4esthetics Lounge Dermal Fillers in Frankfort, KY
4esthetics Lounge is a leading medical spa serving Frankfort, KY, with a long history of providing personalized dermal filler treatment plans. At our Kentucky practice, safety takes the top priority in everything we do, and we use an expansive range of data-driven treatments to ensure our clients can receive the best results possible. Our nurse practitioners and certified professionals administer all procedures in a beautiful spa-lounge environment, resulting in a comfortable and relaxing experience. So, whether you are looking to regain that youthful glow or address specific concerns, 4esthetics Lounge is here for you.
Dermal Fillers & Cosmetic Injectables
Schedule a free consultation with us today to learn more about how dermal fillers can help you feel and look younger. 
About Dermal Fillers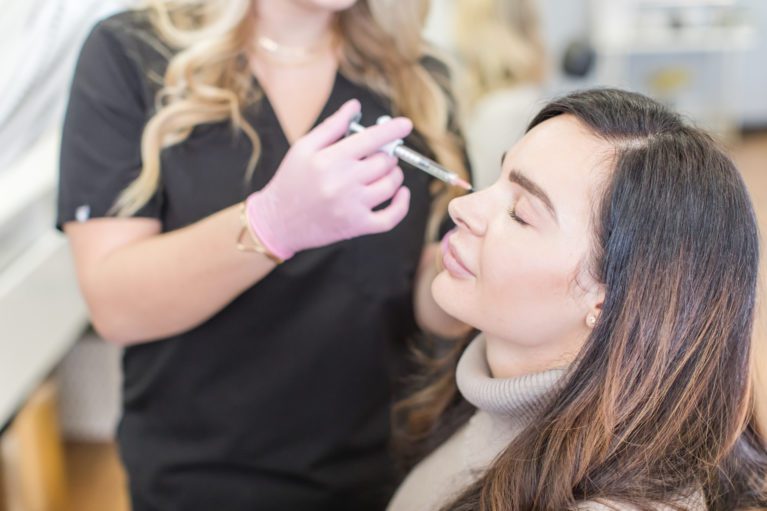 Dermal Fillers Popularity
Frankfort, KY
It will always be an understatement to say that dermal fillers have exploded in popularity in recent years, with more people turning to this treatment to restore that lustrous glow of their youth. This non-invasive procedure adds volume to the skin, making it a perfect option for rounding out the lips and smoothing fine lines and wrinkles. The immediate impact of dermal fillers has also led to this procedure becoming a go-to option for those looking to achieve quick results. So, if you have been struggling with lost volume in your face or have been trying to sport a more youthful appearance, we suggest exploring our dermal filler treatment plans.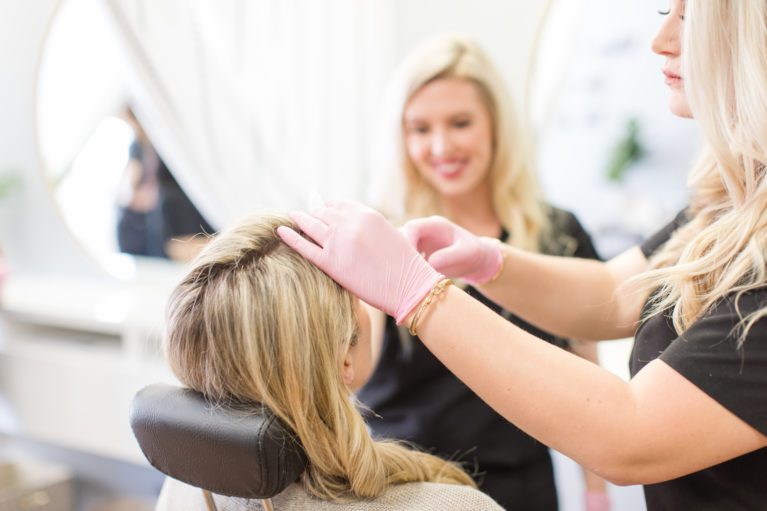 History of Dermal Fillers
Frankfort, KY
A dermal filler is a non-surgical treatment that focuses on injecting a collagen-boosting substance into the body to promote healthier skin. The earliest fillers first burst onto the scene in the 1970s, using animal collagen to add volume to the face. However, most practitioners have long since replaced this type of dermal filler with the more advanced and safe options that are popular today, such as poly-L-lactic acid (PLLA) and hyaluronic acid fillers.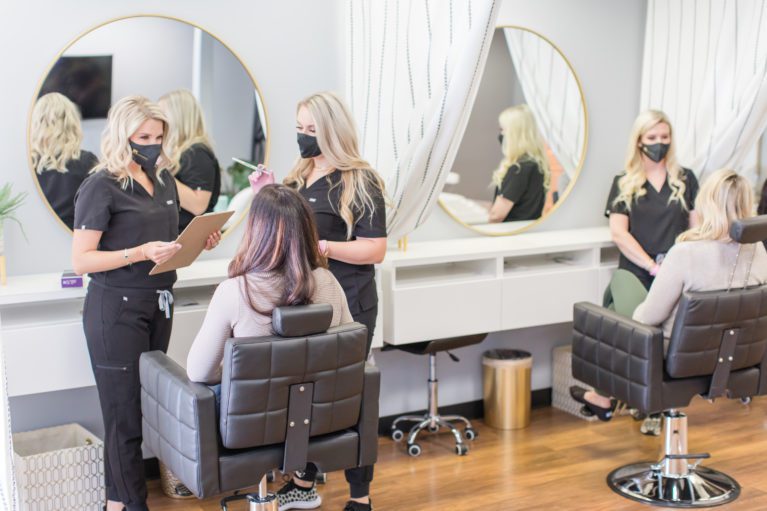 Dermal Filler Uses
Frankfort, KY
Opting for a dermal filler treatment allows you to quickly add life to thin lips, eliminate wrinkles, and turn back the hands of time, making it one of the most effective beauty procedures. Its ability to treat an expansive range of conditions also means that various people can benefit from dermal fillers. So, whether you are currently in your 20s and 30s and want to prevent any signs of aging from popping up or in your 40s and would like to brush away any wrinkles or fine lines on your face, dermal fillers have you covered.
Schedule a Dermal Filler Treatment Consultation
Contact us today to learn more about our dermal filler treatments at 4esthetics Lounge!
Types of Dermal Fillers
Hyaluronic acid (HA) is a natural bodily substance renowned for its capability to hold moisture. This unique ability makes this acid a perfect ingredient for dermal fillers, as injecting HA into the skin helps to boost volume and hydration in the area you target, resulting in a more youthful look. HA's potential to hold moisture has helped ensure that this acid is one of the most popular choices for several use cases and target areas.
Cheek Fillers
You can use dermal fillers to enhance your facial contours by adding volume to your cheeks. If you choose to undergo this procedure at 4esthetics Lounge, we will inject your fillers along your cheekbones and the upper part of your cheeks. Completing this treatment should gift your face a more defined and youthful appearance.
Nasolabial Fillers
A nasolabial filler is a popular treatment that focuses on injecting dermal fillers across the lines that run from your nose to the corner of your mouth. During this procedure, we will apply your injection along this line to help smooth out the wrinkles and fine lines in this area. After your treatment, you will notice that your face looks plumper and refreshed.
Lip Fillers
Lip fillers are one of the most common dermal fillers in the cosmetic world. In this procedure, we apply the injection to the mouth area to result in more enhanced and fuller lips. This additional volume to the lips should give you a more attractive appearance.
Chin Fillers
A chin filler focuses on adding volume and definition to the chin area. In this procedure, one of our practitioners will apply your injections around your chin to enhance its shape, angles, and projections. This treatment should result in a more symmetrical and aesthetically pleasing face.
Under Eye Fillers
Under eye fillers focus on reducing any dark patches and bags that may be circling your eye. In most cases, your practitioner will appear this filler around the tear trough area. After the procedure, you should notice that your face looks refreshed and less stressed.
Full Face Fillers
Full-face fillers are an all-in-one treatment that focuses on adding volume to all areas of the face. Depending on your needs, we may apply injections to your chin, cheeks, nasolabial area, lips, and under-eyes. After your treatment, you should notice total rejuvenation in your face.
What to Expect with Dermal Fillers in Frankfort, KY
Dermal fillers treatments are a safe procedure lasting for about 15-45 minutes, depending on the area you are treating. We also tend to use a fine needle during this procedure. So, while you may feel a bit of pressure, the treatment is generally pain-free.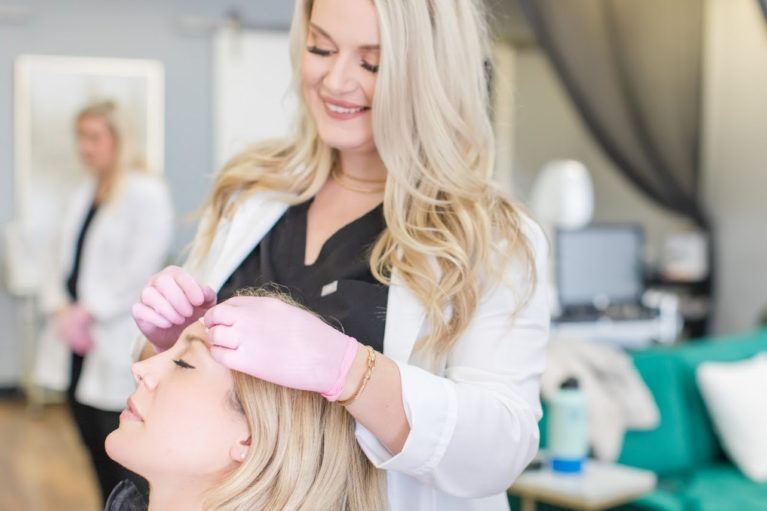 Dermal Fillers
Before the Appointment
At 4esthetics Lounge, you will always receive a free consultation before any procedure to discuss the treatment plan and ensure it is the right for you. To prepare for a dermal filler treatment, we suggest you stay away from alcohol, anti-inflammatory medications, and blood thinners for at least 24 hours before your session. You should also reduce sun exposure and postpone tanning appointments until long after receiving your dermal fillers.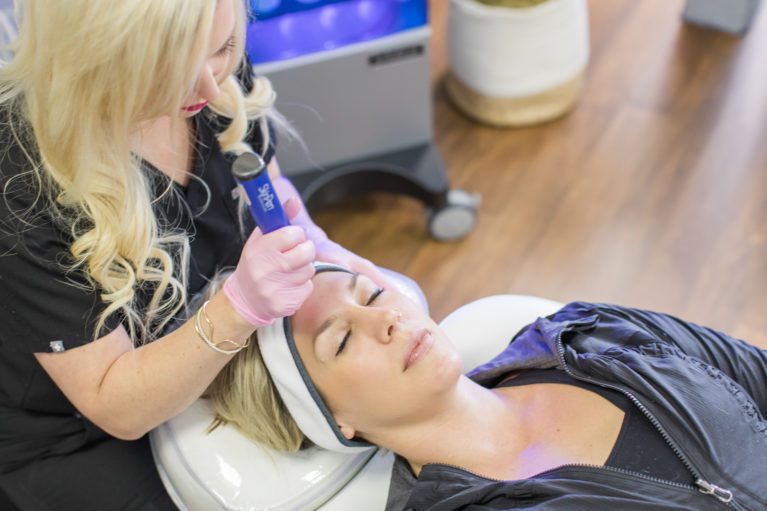 Dermal Fillers
During the Appointment
During your treatment, one of our practitioners will apply a topical anesthetic to minimize the chances of feeling any discomfort. Once the pain-killer kicks in, we will carefully inject the filler into the targeted area. Finally, after applying your dermal filler, we will massage the area to ensure that it distributes evenly into your skin.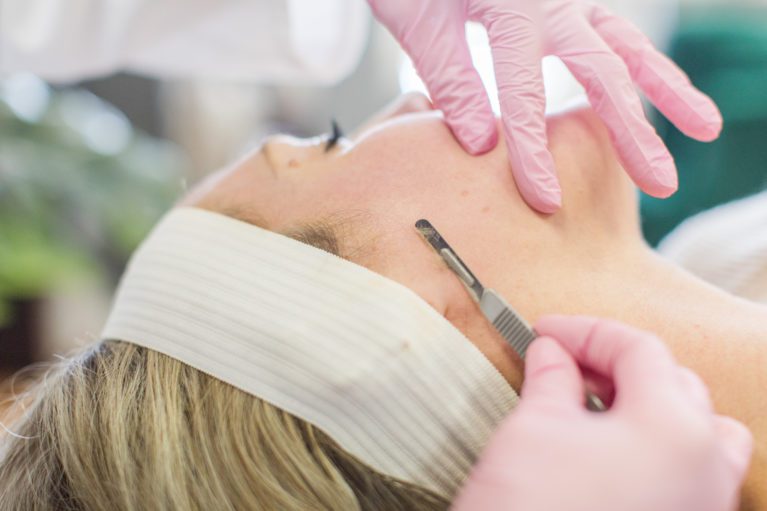 Dermal Fillers
After the Appointment
After the treatment, you may experience some swelling, soreness, and redness, but these are normal and temporary side effects of dermal fillers. However, to avoid complications, we suggest you avoid rubbing or massaging the treated area and partaking in heat-inducing activities, such as exercising. The results of your fillers should last for a few months, but the duration may vary depending on the type of filler you use and your skin type.
Dermal Filler Injections for Frankfort, KY
At 4esthetics Lounge near Frankfort, KY, patients can expect to notice a more lustrous and refreshed appearance after receiving one of our dermal filler treatments. This procedure results in immediate benefits, and you can expect continuous improvements after your session as the filler settles into the skin. Our team at 4esthetics Lounge centers all our treatments around data-driven treatments so you can remain confident that you will always receive the best treatment for you. Please do not hesitate to inquire about our free consultation to kickstart your dermal filler treatments.
Frequently Asked Questions
Dermal fillers create lift, add volume, and restore a youthful appearance to areas of the face that show signs of aging.
Restylane and Juvedermare made of a soft gel consisting of non-animal hyaluronic acid. Hyaluronic acid is a sugar molecule that naturally occurs in the human body, and it is found in our skin. It helps hydrate and adds volume to the skin. It is naturally broken down by our own bodies.
Aging causes a lose of volume in key areas of the face contributing to folds, wrinkles, hollow temples, thinning lips, sunken eyes, and an overall older appearance. Fillers can be used to restore volume loss, smooth out folds and wrinkles, and improve contours to achieve natural results without altering facial expression. Certain fillers can also be used to correct scars.
Dermal filler effects are long lasting but not permanent. Results last anywhere from 6 months to 2 years, depending on the patient's age, area treated, type of filler used, quantity of filler used, and lifestyle.
Most patients experience only mild discomfort. A local anesthetic cream can be applied to the skin prior to the treatment for a more comfortable experience.
In general, dermal fillers are considered very safe. The most common reactions are redness, swelling, bruising, itching, and tenderness and resolve on their own within 1-7 days.